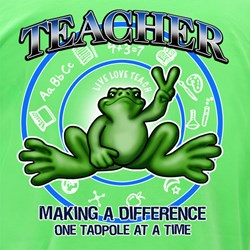 You can't really say thank you enough to those who volunteer to serve. But we can show our support with something as simple as a t-shirt that celebrates their service.
Gloucester, VA (PRWEB) November 04, 2013
When it comes to living fun, doing good and spreading positively peaceful feelings, Peace Frogs knows one thing for certain – it's people that make it happen.
"Peace Frogs is not icons or products, but really a state of mind," said Catesby Jones, who founded the t-shirt, casual apparel and gifts company more than 25 years ago in Virginia. "We don't represent any form of activism; rather, we are aware that now, perhaps more than ever, the entire planet needs some positively peaceful feelings. We care about the environment, but we care about people, too."
And to celebrate people, Peace Frogs has spent the last year continuously layering in original designs in their Cause Collection, with plans to grow.
"When we think of causes we think of people who do incredible jobs that impact our world – like nurses and teachers – and organizations working to make people well – like the Alzheimer's Association and the MS Society," Jones said.
In 2013, among other designs, Peace Frogs launched the "Love Never Fades" and "MS Gets On My Nerves" designs.
Each day, multiple sclerosis gets on the nerves of more than two million people around the world. Literally. Multiple sclerosis (MS) is an unpredictable, often disabling, disease that attacks the central nervous system, according to the U.S. National Multiple Sclerosis Society. More than 400,000 Americans live with MS.
MS is the number one disabling disease among young adults in the United States, according to the Society.
The making of the Peace Frogs MS shirt alone illustrated that startling statistic, Jones said.
"The slogan came from a friend and fan of Peace Frogs who has MS," Jones said. "The shirts were printed by a woman living with MS. And every person on the team knows someone with MS."
Love, family and celebrating all that binds people together in the face of adversity and memory loss is at the heart of Peace Frogs' Love Never Fades designs, which is meant to "motivate us all to find a cure for Alzheimer's and other related dementia diseases," said Jones. "No one wants to think of a loved one losing their memory or losing the outward piece of who they are. We hope that at the very least this design can remind everyone that no matter what memory loss is present in a loved one with Alzheimer's, love never fades."
Peace Frogs has also launched designs celebrating those who serve – like the military, police, emergency workers, teachers and nurses.
"You can't really say thank you enough to those who volunteer to serve," Jones said. "But we can show our support with something as simple as a t-shirt that celebrates their service."
ABOUT PEACE FROGS:
Peace Frogs is named for the Native American symbol for peace. The mascot? An iconic frog thrusting two fingers in the air to form a peace sign. The mission? Live fun and do good.
The frog has proven so popular that the Gloucester, Va.-based company features t-shirts, sweatshirts, boxers, hats, and a variety of accessories.
Today, after more than 25 years since its founding, Peace Frogs is available online, in more than 800 specialty stores around the world, at 16 free standing stores, a Peace Frogs Frozen Yogurt shop in Nags Head, N.C. and with 20 licensees around the world.