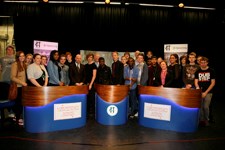 We are delighted to be working in partnership with Havering Council to stage the third Havering Asks debate.
Havering, Greater London (PRWEB UK) 6 November 2013
Havering Asks is a special Q&A panel run by Havering Council in partnership with Havering College of Further and Higher Education (http://www.havering-college.ac.uk) as part of their local democracy work with young people.
The debate modelled on BBC's Question Time is now in its third year and this year's panellists just announced include Roger Evans, deputy chairman of the London Assembly, John Cryer, MP for Leyton and Wanstead; Sara Passmore, Head of Education and Promotion at the British Humanist Association and Stephanie Vogelzang, who is on the executive committee of Republicans Abroad UK.
Chairing the event will be BBC broadcaster Fred Dove.
The event is cross-curricular, meaning Havering College students from many different subject areas are involved in planning, producing and running the event. Media students will be filming the debate, Beauty students will be on set working as make up artists and Photography students will be covering Havering Asks as press photographers.
Havering Asks 2013 will take place on Friday, November 15th, from 2pm, at the college's Ardleigh Green Campus in Hornchurch, Greater London.
This year it will be streamed live to screens across all Havering College Campus sites and live on the Internet at http://www.haveringasks.org/.
Everyone will be able to follow the debate live on Twitter at https://twitter.com/haveringasks.
Havering Council Leader, Cllr Michael White, said: "Havering Asks 2013 is an excellent way for our local young people to meet leading people from the fields of politics and campaigning organisations and ask them questions about local, national and international issues."
Havering College principal Maria Thompson said: "We are delighted to be working in partnership with Havering Council to stage the third Havering Asks debate. The event will give our students and other young people in the borough the opportunity to debate the issues which matter to them with politicians and key influencers."
"It will be a fantastic insight into the television industry for our Media students who will be filming the debate as if it was a live broadcast and it will also be a working experience for our Beauty and Photography students."
For further information on Havering College's Media and Creative Media Production courses - including BTEC, and HNC/D - call Threshold Services on 01708 462801, visit http://www.havering-college.ac.uk or email information(at)havering-college(dot)ac(dot)uk.
ENDS