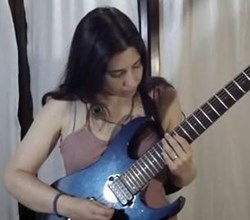 (PRWEB) November 04, 2013
In this lead guitar lesson, now available on YouTube.com, Alejandra Mesliuk teaches how to play the intro solo from shredder guitarist John Petrucci's band Dream Theater's "Another Day". This melodic solo is based on 7 tone diatonic scales and arpeggios and uses the techniques of slides, hammer-on, and vibrato. Alejandra breaks it down very slowly making it easy to see exactly what she is doing so that even the novice guitarist can learn a thing or two from this lead guitar lesson. She continues by breaking it into small sections and repeats them at gradually increasing tempos to demonstrate how to effectively practice until you have it mastered. Guitar TAB's are available for this lead guitar lesson at GuitarControl.com.
American Progressive Metal band Dream Theater was formed in 1985 while three of the founding members, including guitarist John Petrucci, were attending Berklee College of Music in Boston Massachusetts. Known for there technical proficiency that has won them many awards from music instruction magazines. Guitarist John Petrucci is considered to be one of the greatest technical players of all time by his peers and was selected for G3, (A guitarist tour featuring Joe Satriani and Steve Vai that features a third guest guitarist each tour), six times, more than any other guitarist.
Alejandra Mesliuk
Alejandra Mesliuk is from Buenos Aires Argentina. She studied jazz guitar harmony and under the method in Temperley Berklee School of Music by Ariel Ferreyrola. She has been an area teacher and clinician for the last 10 years in electric guitar, classical, and musical language. She is currently working on a solo album.
About GuitarControl.com
GuitarControl.com is the leader in modern guitar instruction. It's packed with recourses including articles, video lessons, and the best videos in the business for the beginner to the advanced guitar student taught by the best instructors out there. Weather you are into the blues, rock, jazz, metal, folk, or anything in between, they have you covered.