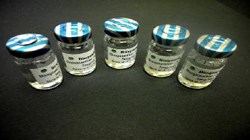 'I have long studied the topic of death and brain death because of my love of life and human beings.' - Dr. Calixto Machado
Philadelphia, PA (PRWEB) November 05, 2013
Bioquark, Inc., (http://www.bioquark.com) a company focused on the development of combinatorial biologics for regeneration and disease reversion in human organs and tissues, has implemented an exempted informational materials exchange with Dr. Calixto Machado, MD, PhD, President of the International Symposium on Brain Death and Disorders of Consciousness, President of the Cuban Society of Neurophysiology, and Senior Professor and Researcher at the Institute of Neurology and Neurosurgery, Havana, Cuba. This exchange is consistent with the Berman Amendment in the Ominbus Trade and Competitiveness Act of 1988 (amending the International Emergency Economic Powers Act and the TWEA) and with the Cuban Assets Control Regulations. It will not involve the exportation of technical data to Cuba or any Cuban national and therefore is consistent with the Export Administration Act and the Export Administration Regulations.
"We are honored to be exchanging information with the world's leading expert in the areas of brain death, coma, and vegetative states," said Ira S. Pastor, CEO, Bioquark Inc. "We look forward to evaluating Dr. Machado's extensive existing information portfolio in the treatment of patients with disorders of consciousness as Bioquark Inc. further develops its programs specificaly focused on CNS regeneration and repair."
Recently granted a 5-year visa to travel throughout the U.S., Dr. Machado has spent over 20 years devoted to the topic of brain death and altered consciousness, authoring dozens of scientific papers and books, including Brain Death: A Reappraisal.
"I have long studied the topic of death and brain death because of my love of life and human beings. I look forward to exchanging permitted information with Bioquark Inc. as it develops as a clinical company focusing on regeneration and repair of the human brain," said Dr. Machado.
Brain death is the legal definition of human death in most countries around the world. However, while humans lack substantial regenerative capabilities in the CNS, many non-human species can repair, regenerate and remodel substantial portions of their brains even after critical life-threatening trauma.
"We are at a very unique moment in history where the convergence of the tools of biotechnology, resuscitation / reanimation research, and clinical neuroscience have placed us on the verge of major scientific breakthroughs," says Sergei Paylian, Founder, Chief Science Officer, and President of Bioquark Inc.
About Bioquark, Inc.
Bioquark Inc. is focused on the development of biologic based products that have the ability to alter the regulatory state of human tissues and organs, with the goal of curing a wide range of diseases, as well as effecting complex regeneration.