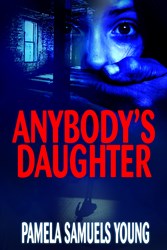 Los Angeles, CA (PRWEB) November 05, 2013
In her newest fast-paced thriller, "Anybody's Daughter," practicing attorney Pamela Samuels Young sheds light on a serious contemporary issue — child sex trafficking — and shares a cautionary tale for parents and teens.
Young, who was honored in 2010 by the American Library Association's Black Caucus for excellence in fiction writing, specializes in workplace sexual harassment. She heavily researched the real world of child sex trafficking in writing "Anybody's Daughter" and says the sexual exploitation of children is an issue close to her heart.
"I actually watched girls no older than 13 or 14 strolling the 'track' in Compton, mere blocks from a police station and not far from where I grew up," Young says. "Law enforcement and the justice system are failing our children by not focusing more attention on this problem. In fact, they're contributing to it by treating these children like criminals instead of the victims that they are."
Young points to Los Angeles County's STAR Court as an example of an innovative approach to this crisis. Under the guidance of the STAR Court, multiple social agencies team up to provide under-aged girls who've been targeted by pimps with specialized help and guidance.
"One of the reasons child sex trafficking is proliferating at such an alarming rate is because we live in a culture that glorifies pimps," Young explains. "Another part of the problem is that the johns who are soliciting these children are rarely prosecuted. We need to begin with tougher sentences for both the pimps and the johns. This needs to be a national priority because the next victim won't be just anybody's daughter, it could be yours."
"Anybody's Daughter," makes that point chillingly clear in a narrative that opens with a bright, sheltered 13-year-old girl, Brianna, eagerly awaiting her first rendezvous with a "boy" she has met on Facebook.
In planning the clandestine meeting, Brianna falls into a trap carefully laid by a ring of drug dealers-turned-human traffickers who prey on lonely girls from unhappy homes. Their mistake: Brianna meets neither of those criteria. She is a cherished daughter and niece, and her Uncle Dre, a man with his own criminal past, has just the connections and street smarts to follow her into L.A.'s criminal underbelly, with the help of the ex-girlfriend he still loves, attorney Angela Evans.
As naïve little Brianna is exposed to the horrors of captivity and child sex trafficking, Dre and Angela race against the clock to find her before irreparable harm is done.
Book reviewer Digna Dreibelbis of Autumn Blues Reviews found "Anybody's Daughter" to be an irresistible mix of real-world detail, suspense and action.
"One of the best thrillers I have read in a long time," she writes. "Young shares the legal system as seen through her own eyes and experiences. As the story unfolds, the reader learns how and why these young girls are being exploited as well as the loopholes in our legal system that allow this to happen."
Ella Curry of Black Pearls Magazine and BAN Radio Show writes:
"I was in tears for most of the book and in shock for the rest! … This is a 5-Star Read and every parent needs to pick it up!"
About Pamela Samuels Young
Pamela Samuels Young is an award-winning novelist and Managing Counsel for Labor and Employment Law for a major corporation in Southern California. Described by one reviewer as "John Grisham with a sister's twist," her six legal thrillers include "Buying Time," winner of the American Library Association's Black Caucus' 2010 Fiction Award. "Anybody's Daughter" is her newest novel. A former journalist, Young began her broadcasting career with WXYZ-TV in Detroit and later worked as a news writer and associate producer for KCBS-TV in Los Angeles. A popular motivational speaker, she is married and lives in the Los Angeles area. For more information visit http://www.pamelasamuelsyoung.com.