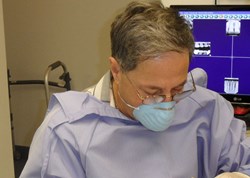 Fountain Valley, CA (PRWEB) November 04, 2013
Patients in Orange County (Huntington Beach, Costa Mesa and Newport Beach) can look to Dr. Robert Mokbel as a leader in precision placement of dental implants thanks to his adoption and use of the leading-edge cone beam imaging technology. This high-definition x-ray system captures three-dimensional, panoramic pictures in seconds. They have exceptional clarity and allow Dr. Mokbel to determine the optimal location for implants for patients with missing teeth.
A precise determination of an implant's location before surgery provides the best opportunity for nerves, facial muscles and other tissues to be left undisturbed during the procedure. This can dramatically lessen a patient's post-surgical pain or discomfort. Additionally, complications during the procedure are reduced when better pre-surgery information is available to allow the location of the post's insertion to be clearly identified. Dental implants are a great solution for people with missing teeth because they offer full normal-tooth functionality and feel. They also provide the needed support for the jaw bone so that it does not erode, or resorb, over the years.
Cone beam imaging is transforming dental technology and surgeries every day with its clear and crisp image quality. Patients also enjoy the speed at which images are captured, reducing the amount of time they must spend just sitting in a chair. Dr. Mokbel is a prosthodontist, with Periodontology training as well, who is committed to providing his patients with a positive experience and results. That is why he has chosen to utilize the cone beam x-ray on a regular basis. The ability to more efficiently and accurately plan surgeries allows him to deliver the best care and minimize the impact on patients when receiving dental implants to replace missing teeth.
In addition to reducing pre-surgical visit time, surgical complications and post-surgical pain, the cone beam x-ray system is known for its extremely low radiation levels, making it a safe imaging method.
Patients who have lost teeth due to gum disease, trauma or any other circumstance are urged to contact Dr. Mokbel's office at 714-905-5335 or to visit his website at http://www.scdentalimplants.com to learn about how this exciting new imaging technology can make the process more possible for them.
About The Doctor
Robert Mokbel, DDS is a prosthodontist offering personalized laser and implant dentistry for gum disease patients in Fountain Valley, CA for over 28 years. Dr. Mokbel received his Prosthodontic degree in Paris, France where he did four years of research in prosthetics and in occlusion and attended periodontology training as well. He then arrived at USC where he taught prosthetics since 1983. He is part of one percent of dental professionals providing the LANAP FDA cleared laser procedure for gum disease treatment. To learn more about Robert Mokbel, DDS and his services visit his website at http://www.scdentalimplants.com and call (714) 905-5335.