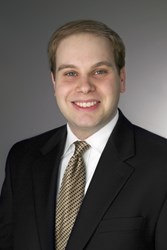 Atlanta, Georgia (PRWEB) November 05, 2013
Habif, Arogeti & Wynne, LLP, the largest Georgia-headquartered tax, accounting and business consulting firm, announced today that Ori Epstein has been promoted to senior manager.
Clients across the U.S. have questions about the medical device excise tax and its implications to their business. Over the past three years Epstein has focused on the medical device industry, consulting and educating medical device manufacturers on the excise tax. Epstein is an expert on the challenges medical device manufacturers face. His personal attention to each client and their specific tax situation ensures that all clients are in compliance with the medical device excise tax and proactively planning for its impact to their bottom line.
Epstein is frequently asked to present on the topic of the medical device excise tax and its impact to medical device companies because of his expertise in the area. He is also a regular contributor to Medical Device & Diagnostics Industry (MD+DI), the leading medical device trade publication. In fact, Epstein's article, "Medical Device Tax 101", co-authored with HA&W partner Mitchell Kopelman, was the highest rated and most read article on the MD+DI website in 2012.
"The medical device excise tax has huge implications for our clients and their bottom lines, that is why it is important that the Firm have an expert who can assist clients with proactive tax planning and address any questions that arise," said Richard Kopelman, CEO and managing partner at HA&W. "Our clients feel assured that their compliance needs have been met after working with Ori because he knows the medical device excise tax information backwards and forwards."
Aside from his work with medical device companies Epstein provides peace of mind to business leaders who are mired with complex corporate tax issues across a variety of industries including manufacturing, technology, and retail. Many of his clients have both a domestic and international presence.
Epstein is a graduate of the University of Georgia with a BBA in Accounting and a Masters of Accounting with a concentration in tax. He is also actively involved in the community and is a member of the Southeastern Medical Device Association (SEMDA) and the American Israel Chamber of Commerce Medical Committee.
About Habif, Arogeti & Wynne, LLP:
Today, the pace at which work gets done is faster than ever before, and when companies manage that pace by surrounding themselves with the right people, sustainable success happens. That's why the Southeast's most recognizable businesses continue to select Habif, Arogeti & Wynne, LLP as their accounting, audit, tax and consulting firm of choice.
Companies looking to increase profitability, streamline processes that improve financial reporting, and reduce the time associated with audits, tax planning and compliance choose HA&W. Quicker answers, avoiding unforeseen pitfalls, becoming a better business for the long-run. These are just a few of the benefits clients routinely experience when working with HA&W.
Starting up, growing or getting ready to transition? Operating locally, nationally or globally? HA&W gets you where you want to be. Be Successful.
Reach out to HA&W at http://www.hawcpa.com.