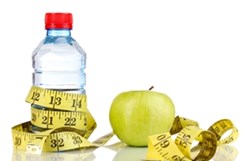 "The start of a new year is a strong motivator for people to act on goals they've been pushing off," said Julie McCulley, Lightning Labels' Production Manager.
Denver, CO (PRWEB) November 05, 2013
Lightning Labels, printing leader in custom labels and stickers, is encouraging supplement and vitamin manufacturers to create custom nutraceutical labels that speak to consumers' New Year's resolutions. While holiday shopping may be top of mind for businesses, resolutions provide an important marketing opportunity as well. Every year, millions of people set health-related goals for themselves and seek out products that will help to achieve them. Nutraceutical stickers that speak to common New Year's resolutions can attract consumers in stores and online, and also position the brand's products as a central component of a healthy lifestyle.
"The start of a new year is a strong motivator for people to act on goals they've been pushing off," said Julie McCulley, Lightning Labels' Production Manager. "Consumers establish resolutions to lose weight or get healthier, and many know dietary supplements and vitamins can play a strong role in helping them achieve these aspirations. Well-designed custom nutraceutical labels can effectively target these shoppers. Additionally, a strong nutraceutical sticker can help educate consumers who may be unfamiliar with the health benefits these products provide. With the help of Lightning Labels' industry-leading printing services, manufacturers can create attractive, informative labels that communicate their brand's value."
3 Holiday Label Printing Tips for Nutraceutical Stickers That Stand Out:
As winter festivities quickly approach, makers of supplements and vitamins shouldn't delay holiday label printing any longer. Here are three tips businesses should consider as they design custom packaging for their nutraceutical products:
1. Prioritize Clarity On Nutraceutical Stickers: As consumers browse the vitamin aisle in the coming months, they'll pay extra attention to the information on nutraceutical stickers and labels. In addition to learning how certain products can complement a healthy lifestyle, they're looking for high-quality ingredients, allergen warnings and other important information. It's a good idea to partner with a label printer that can place small, but legible text on packaging of all sizes. Lightning Labels' state of the art printing processes guarantee clarity and precision.
2. Choose Durable Nutraceutical Labels: While it's important to provide consumers all the information they need on nutraceutical labels, it's equally vital to ensure packaging remains legible for extended periods of time. Especially for vitamins that feature dosage recommendations or warnings, a faded label or one that has peeled off the container can lead consumers to abandon the product. That's why it's a good idea to choose nutraceutical labels that will keep custom designs intact. Lightning Labels' extensive selection of materials and laminates offer versatile and durable solutions.
3. Use Holiday Label Printing That Won't Limit Design Ideas: Another aspect of versatility is that manufacturers should work with a printer that offers customizable options for their nutraceutical labels and stickers. In addition to many materials and finishes, consider a variety of shapes and sizes to ensure holiday label printing creates the desired look and feel for nutraceutical products.
For additional ways to revamp nutraceuticals in time for New Year's, download the free white paper "6 Easy-to-follow Tips to Make a Statement with Colorful Custom Labels and Stickers" from Lightning Labels' Facebook page. This covers all the basics, including material selections, wording and image placement, which are all aspects to consider when designing custom nutraceutical labels for the market.
About Lightning Labels:
Lightning Labels uses state-of-the-art digital printing technology to provide affordable, full-color custom labels and custom stickers of all shapes and sizes, and now offers a full line of custom packaging products. From small orders for individuals, to the bulk needs of big businesses, Lightning Labels is equipped to handle and fulfill sticker, label and product packaging projects of all types. Best of all, like the name implies, Lightning Labels provides a quick turnaround to every customers' labeling and product packaging needs. Uses for Lightning Labels' custom product labels and custom stickers include food packaging and organic food labels, wine and beverage labels, bath and body labels, and nutraceutical products, such as vitamins, essentials oils, and herbal remedies, as well as event stickers, adhesive window stickers and more. Lightning Labels strongly supports the development of environmentally friendly printing materials and carries EarthFirst PLA, a new kind of green label material made from corn instead of petroleum. While operating as a high-tech printer, Lighting Labels prides itself on its personalized customer service. Lightning Labels provides one stop shopping for all of your label and product packaging needs. For more information and to place orders online, visit LightningLabels.com. For the latest in packaging news and labeling promotional offers, find Lightning Labels on Twitter (@LightningLabels), Facebook, Pinterest, Google+ and LinkedIn.