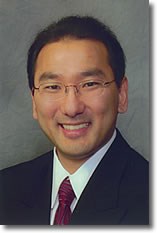 Fremont, CA (PRWEB) November 04, 2013
Dr. Colin Yoshida of Fremont Dentistry offers professional tooth whitening procedures in Fremont, CA.
With the number of tooth whitening products available in stores, many people may not feel that tooth whitening is a treatment that should be performed by a cosmetic dentist. In reality, though, teeth whitening performed by a professional is much more effective because the whitening agent is stronger and the treatment is customized for the patient.
In the last few decades, tooth whitening treatments have become more popular, and the number of at-home treatments available has increased greatly. However, these treatments do not always deliver the desired results though. Some at-home treatments contain just half the amount of the whitening agent carbamide peroxide that a dental whitening treatment offered by a professional does. At-home treatments also cannot be tailored while professional treatments can account for each patient's oral health and overall desired outcome.
Dr. Yoshida works with patients to evaluate their needs and determine what treatment will be most effective for them. Dr. Yoshida has two teeth whitening options for patients: an at-home treatment that uses trays and an in-office treatment that uses lights and lasers to activate a whitening agent. Patients who use the at-home treatment are given customized trays, which they put the whitening agent into. Patients then wear the trays for a few hours daily for as long as a month — the exact treatment time depends on the results that each patient wants. Patients who opt for in-office treatment with Dr. Yoshida may require multiple sessions to achieve final results. Each session takes less than an hour and offers more dramatic results than the tray treatments do.
People experience far more noticeable results on a shorter time scale when they visit a cosmetic dentist for tooth whitening treatments. Even at-home treatments that use trays and resemble Dr. Yoshida's at-home treatment are not as effective because the trays are not custom-fitted and the whitening agent is weaker. Anyone interested in changing his or her smile with the most effective treatment available should call Dr. Yoshida's office to find out more or make an appointment.
About the Practice
Fremont Dentistry is a general practice offering personalized dental care for patients in Fremont, CA. Dr. Colin Yoshida graduated from University of the Pacific School of Dentistry and is part of one percent of dental professionals providing the LANAP FDA cleared laser procedure for gum disease treatment. To learn more about Fremont Dentistry and their dental services visit their website at http://www.fremontdentistry.com and call (510) 648-3184.