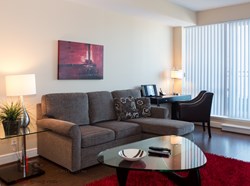 TLG has more employees that have attained the CCHP designation than any other corporate housing provider in Canada.
Toronto, Ontario (PRWEB) November 05, 2013
Today Living Group (TLG) specializes in extended stay and property management in Toronto's downtown core. TLG has more employees that have attained the CCHP designation than any other corporate housing provider in Canada. Recently, staff member Diana Goncalves passed her certified corporate housing professional (CCHP) exam becoming the most recent TLG employee to attain this accreditation. CCHP designations guarantee worldwide that graduates are highly trained professionals bound by a strict code of ethics and industry best practices.
TLG believes professional suite management makes good sense for business, particularly for owners who lease or profit-share corporate suites in Toronto's downtown core. Corporate housing associates with their experience, resource network, legal knowledge, and dedication to privacy and excellence enhance the process of successfully renting to prospective clients.
More than ever, media staff, consultants, military personnel, corporations, government workers, interns, and even families are seeking alternatives to extended stay hotels. Corporate housing solutions are more cost effective for HR departments, relocation agencies, insurance companies, and relatives assisting with a prolonged family-care situation. Compared to hotel living, corporate housing providers deliver larger, fully equipped living spaces and extra services such as housekeeping, Wi-Fi, and in-suite laundry to mention a few.
Choosing the right short term stay provider is just as crucial as selecting a real estate agent to sell one's home. Even a temporary relocation can be both stressful and unfamiliar. Working with a CCHP expert ensures clients receive a trouble-free experience. They also benefit from the professional's extensive knowledge and have access to key industry data, protection policies, competitive rates, and unsurpassed service.
TLG is a full service property management leasing company specifically designed for the condominium owner. Its property management program is uniquely structured to encompass inspections, leases, emergency maintenance, insurance, and legal services. TLG is a proud member of the Canadian Corporate Housing Providers Association, the only trade organization in Canada dedicated to corporate housing.