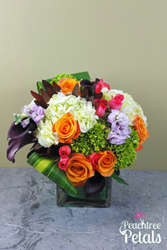 Atlanta, GA (PRWEB) November 05, 2013
Peachtree Petals, a leading new Atlanta Florist and FTD Master Florist, announces new reduced pricing and same-day delivery charges for their premium floral arrangements. The announcement comes in an effort to inform customers of its new pricing structure due to the company no longer offering free same-day delivery. Peachtree Petals has established itself as a premier florist and strives to be the best choice for floral services within the Atlanta and surrounding Atlanta areas.
Peachtree Petals will begin offering a reduction in pricing for all of its floral arrangements effective this month. The florist has reduced the amount by $10, which the Peachtree Petals website has been officially updated with all new pricing. The reduction is to offset the discontinuing of free same-day delivery, which the Atlanta florist became well known for in the Atlanta area. Customers will still enjoy the same high-quality arrangements; however, there will now be an additional delivery fee to the customers' final total at checkout.
The standard delivery fee is an additional $9.99 for each order. Peachtree Petals now charges a delivery fee, yet with the reduction of pricing, each customer still spends less on their overall order due to sales tax. The floral shop's same-day delivery is still performed within a 5-hour window timeframe. Peachtree Petals' rush service delivery option, which is performed within a 2.5-hour window timeframe, will now cost an additional $12.99.
Peachtree Petals will continue to offer its' customers the best pricing available, which is the reason the florist has reduced the prices of all floral arrangements. The company also offers a next-day shipping program and can deliver its' wonderful floral arrangements nationwide for $9.99 as well. For any custom design requests, Peachtree Petals is available to discuss and assist its' customers with any of their floral needs.
Peachtree Petals is a recognized leading florist, able to meet any of your floral needs. From headquarters in Atlanta, Georgia, Peachtree Petals provides floral services from quality floral arrangements and wedding bouquets, to wedding consulting, and assorted gifts nationwide. The Atlanta florist offers high-quality flowers with a standard free delivery of all bouquets in the Atlanta and Metro Atlanta.