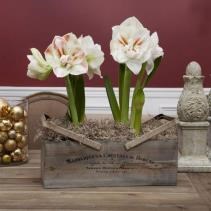 We want to make sure our fans get the chance to experience the size and beauty of our stunning amaryllis bulbs
Lakewood, NJ (PRWEB) November 06, 2013
Fall bulb planting season is already under way, and flower lovers are already thinking about next season: indoor bulbs for a splash of color in winter. Big, beautiful amaryllis are the perfect solution to keep the winter blues at bay.
To kickstart the indoor bulb season, Longfield Gardens is hosting a giveaway contest on Facebook. Enter for a chance to win a set of five amaryllis gift kits, valued from $12.95-64.95, or one of 50 individual amaryllis bulbs. The gift kit winners will receive one kit for themselves and one to give as a gift.
Back by popular demand, the Amaryllis Giveaway will help loads of lucky gardeners expand their bulb collection this holiday season.
Beginning November 4th, bulb-lovers across the country can enter Longfield Garden's Facebook contest for a chance to win an awe-inspiring set of amaryllis bulbs.
"We love to give back to our fans," shares Jennifer Pfau, marketing director and bulb enthusiast at Longfield Gardens. "And with the holidays approaching quickly, this contest will make gift-giving much easier."
For a chance to win an amaryllis gift kit or amaryllis bulbs, like Longfield Gardens on Facebook, and click on the 'contest tab' to register. For two weeks, Longfield Gardens will randomly select the winners to experience the beauty of Longfield's amaryllis bulbs.
"Amaryllis bulbs, with their roaring red, calming white, or soft pink, instantly brighten up any home and make the holiday season come alive with their huge blooms," Pfau notes. "We want to make sure our fans get the chance to experience the size and beauty of our stunning amaryllis bulbs."
Falling in love with Longfield bulbs is easy—especially when it's free!
Longfield Gardens is one of America's top importers of quality flower bulbs. Longfield's mission is to bring bulb gardening into every home, offer common sense planting information and stretch your dollar by offering competitive prices that are transparent. This simple approach to selling bulbs saves their customers time and money while increasing gardening success. Longfield Gardens carries an impressive selection of spring-planted, fall-planted and winter product lines, as well as information and inspiration. For more information, visit the website at http://www.longfield-gardens.com or visit the blog at blog.longfield-gardens.com.