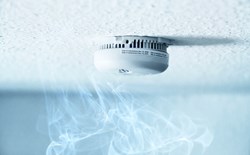 Lincoln, RI (PRWEB) November 04, 2013
House fires kill thousands of people and cause billions of dollars in damage each year. In 2012, Amica Insurance's claims division saw a spike in fire claims during the fall and winter months. That's why Amica is providing tips to keep you, your family and your home safe from fires.
House fires can occur any time, day or night, so it's important do everything you can to keep your family safe. The National Fire Protection Association (NFPA) reports that in 2011, fire departments responded to 370,000 home structure fires, which caused 13,910 injuries, 2,520 deaths and $6.9 billion in direct damage.
Amica, the NFPA and other fire safety experts offer these tips for fire safety:

Talk to children about the dangers of playing with matches and lighters. Store matches and lighters in a locked cabinet or out of reach.
Turn off the stove and blow out any candles when you leave the room.
Make sure chimneys, fireplaces, wood and coal stoves and furnaces are regularly inspected and cleaned.
Keep combustible materials away from fireplaces, wood stoves, stove tops and other heating sources.
Store gasoline in approved containers and keep the containers in an outdoor shed or other area away from your home.
Make sure your smoke detectors are working, and make sure you have one for every floor of your home.
About Amica Insurance
Amica Mutual Insurance Co., the nation's oldest mutual insurer of automobiles, was founded in 1907. The company, based in Lincoln, RI, is a national writer of automobile, homeowners, marine and personal umbrella liability insurance. Life coverage is available through Amica Life Insurance Company, a wholly owned subsidiary. Amica employs more than 3,200 people in 40 offices across the country.
CONTACT: Vince Burks, Corporate Communications, 50 Amica Way, Lincoln, RI 02865-1155, 800-652-6422, ext. 24563
Twitter: Amica
Facebook: Amica Mutual Insurance Co.