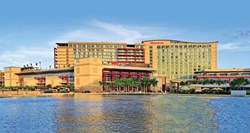 A key benefit for the construction project was the reliability of the PENETRON product.
East Setauket, NY (PRWEB) November 13, 2013
Situated in the bustling city of San Juan, the new Sheraton Puerto Rico Hotel & Casino is located next to the marina and just 10 minutes from the international airport and five minutes from historic Old San Juan. Puerto Rico's newest hotel features over 500 hotel rooms (including 22 luxury suites), several restaurants, terrace lobby bar, casino, full-service spa, 4th floor outdoor infinity pool, and over 40,000 square feet of flexible function space, including a state-of-the-art conference level.
This new US$150 million construction, the newest addition to the Sheraton name and the largest casino on the island, relied on PENETRON ADMIX for the fourth-floor pool deck and the basement-level water cisterns. PENETRON waterproofing was used in 1,200 cubic yards of concrete.
"Reducing construction times is a significant advantage of incorporating PENETRON ADMIX to concrete," explains Christopher Chen, Director of The PENETRON Group. "Our crystalline waterproofing admixture makes the concrete pouring process twice as effective, since waterproofing is done while concrete is being poured. This eliminates waterproofing membranes or other topically applied systems, and avoiding post cured concrete work prevents application errors and eliminates moving materials and manpower around a jobsite as the building footprint widens. Ultimately, it shortens the job schedule and contributes to project savings."
An added bonus: the Sheraton Puerto Rico Hotel & Casino is the only U.S. Green Building Council / LEED-certified hotel in the Caribbean and the first such Sheraton hotel in the world.
"A key benefit for the construction project was the reliability of the PENETRON product," adds Brian Banes, Project Manager and head of BBanes Consulting, Inc. "We could finish the lower floors without worrying about all the water up on the top-floor pool. This helped us keep to the schedule."
The PENETRON Group is a leading manufacturer of specialty construction products for concrete waterproofing, concrete repairs and floor preparation systems. The Group operates through a global network, offering support to the design and construction community through its regional offices, representatives and distribution channels.
For more information on PENETRON waterproofing solutions, please visit our website at www(dot)penetron(dot)com, email us at crdept(at)penetron(dot)com or contact our Corporate Relations Department at 631-941-9700.