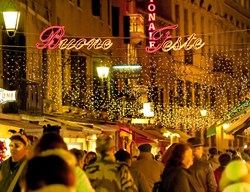 Somerville, MA (PRWEB) November 14, 2013
1. Downhill in the Dolomites
On the border of Austria, a number of charming ski villages can be found dotting the landscape alongside the Dolomite Mountains. With so many areas throughout the mountains to choose from, all skiers novice or expert can get their daily run in. Those who enjoy cross-country skiing should head to the powdery valleys of Ortisei. Two of the most well-known ski areas are Cortina d'Ampezzo and Val Gardena. One of the major bonuses of skiing here is the scrumptious array of authentic Italian food to choose from. End your day with a local pasta al dente washed down with some vino and finished with an espresso or caffè latte. Take a high-speed train from Venice to Trento and be there in about 2 ½ hours, for a Super Economy fare of $32. From Rome to Trento takes 4 hours and costs $42.
2. Visit the Vatican in Rome
With average temperatures in the 50's for most of the winter, it is a wonderfully comfortable time to tour the Vatican. Fewer tourists and lines mean you can meander the museums at your leisure, while the holiday season offers special exhibits and papal appearances leading up to Christmas. Visiting hours and tours are scaled back during the winter, but the free Sunday offering remains. On every last Sunday of the month all Vatican museums are free, unless it falls on a major holiday such as Christmas or New Year's Day. These Sundays still attract crowds, but far less than in summer months. Tickets for Christmas Eve and Christmas Day mass must be booked months in advance. Venice to Rome by train takes slightly under 4 hours, for a Super Economy fare of $42. Naples to Rome is just over an hour, for $28.
3. Lace Up Your Ice Skates in Florence
While ice skating may not be the first thing that comes to mind when you think of the cultural Tuscan gem that is Florence, the winter pastime is quickly becoming a favorite among Italians and visitors alike. The lively rink at Parterre, located near the arch of Piazza della Liberta, is open from November through February and offers a unique way to experience the splendor of the city while swishing around with locals. The entry fee is $6 and skate rentals are around $9 . In addition to daytime hours during the week, the rink offers a special late skate on the weekends from midnight until 1am. New Year's Eve, sees Florentines meeting at Parterre to drink and ring in the New Year. Get there from Rome by train in just over an hour at a Super Economy fare of $28. Or from Venice, in about 2 hours, for the same price.
4. Nosh on Hot Chocolate in Naples
We don't say sip hot chocolate in Naples for a reason. The hot chocolate in Italy is practically as thick as pudding, and the cafes of Napoli offer some of the best of this unforgettable delicacy in the country. It is drinkable, but better savored with the help of the mini-spoon that comes on the saucer with your cup of love. Add dollops of sweet panna , or cream, and a quick trip to heaven is complete. Try Gay Odin Antica Cioccolateria or Gran Caffè Ciorfito, places that consistently get raves from online reviewers. Take the train from Rome to Naples and be there in as little as 1 hour and 15 minutes with Super Economy fares are as low as $28. From Florence to Naples is under 3 hours for $42.
5. Chill Out in Venice
The poet Joseph Brodsky, in his essay Watermark, proclaims he would never visit Venice in the summer "not even at gunpoint." Winter was more his scene, where on any given morning "You fling the window open and the room is instantly flooded with this outer, peal-laden haze, which is part damp oxygen, part coffee and prayers," says Brodsky. In addition to the magical mist that hovers over the city, a sense of peace and tranquility returns post high tourist season. A perfect setting to check out the Venice Winter Festival, which includes of a number of fun events including ice skating in Campo San Polo ( the second largest public square in Venice after the Piazza San Marco) outdoor markets, theater performances, musical concerts and more. Take the train from Rome to Venice and be there in just under 4 hours for a Super Economy fare of $42. From Florence to Venice takes just over 2 hours for $28.
To book train tickets for your winter getaway, go to http://www.italiarail.com.
Fares are based on midweek dates in January 2014 and are subject to change depending on exchange rates and availability.
About ItaliaRail: ItaliaRail are the experts on Italy train tickets and passes. In cooperation with Trenitalia, Italy's only national railway, ItaliaRail provides a direct connection to Trenitalia's reservation system allowing rail travelers access to the most routes at the best prices. Travelers are able to book in multiple currencies and knowledgeable customer service agents are available to answer questions and give advice on train travel throughout Italy. ItaliaRail was launched in 2005 and is a division of International Rail, LLC.