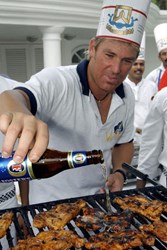 It's not just the same old pork, beef or ribs; the chefs really utilize the area's fresh seafood.
Destin, Florida (PRWEB) November 04, 2013
Known as "The World's Luckiest Fishing Village," Destin, Florida is renowned for its use of local seafood in traditional Southern cooking. Henderson Park Inn has named the Blues, Brews and BBQ Festival the season's top culinary event. Held on November 9, this popular barbecue competition will feature signature coastal food, live music and craft beer.
"The food at the Blues, Brews and BBQ Festival is out of this world," said a spokesperson for the Henderson Park Inn. "It's not just the same old pork, beef or ribs; the chefs really utilize the area's fresh seafood."
The Blues, Brews and BBQ Festival will take place on Destin's HarborWalk Village on Saturday November 9 from 11 am - 4 pm. Guests will have the chance to purchase armbands that let them sample the food and drink at the festival. Tasting armbands cost $25 on the day of event or $20 before the festival. Armbands can be purchased in advance by emailing info(at)harborwalk-destin(dot)com or by calling 850-974-4801. Proceeds from ticket sales will benefit the FRLA ProStart Scholarship Program, which provides on the job training for students hoping to launch careers in foodservice.
Chefs at the festival will compete for a number of titles, including "Best Traditional BBQ," "Best Seafood BBQ," "Most Original BBQ" and the "People's Choice Award." The 1st, 2nd and 3rd prize winners of the People's Choice Award will receive a large donation to the non-profit of their choice.
Live entertainment for the festival will be provided by genre-spanning musical groups: The Modern Eldorados, The Blenders and the Season Ammons Band.
In previous years, many of the guests at the Blues, Brews and BBQ Festival have stayed at the Henderson Park Inn. Located minutes away from HarborWalk Village, the Henderson Park Inn is a popular bed and breakfast for vacationing couples.
Voted the most romantic hotel in North America, Henderson Park Inn opened its doors in 2007 as an industry leader in high quality and exceptional customer service. The all-inclusive, adult only resort is a recipient of both the 2013 Certificate of Excellence and the Travelers' Choice Award from TripAdvisor. Visitors to the bed and breakfast in Destin will be excited for the breathtaking ocean views on Henderson Park Inn's private beach, as well as the countless complimentary amenities including a gourmet breakfast and picnic lunch. Offering 24-hour check-in, Henderson Park Inn is located at 2700 Scenic Highway 98, Destin, FL. For additional information about Henderson Park Inn, visit their website at http://www.hendersonparkinn.com or give them a call at 866-398-4432.