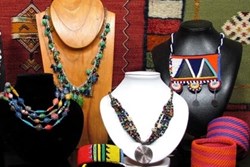 Our unique collections of gift items either protect our natural resources or, through fair trade practices, enable an artisan to rise above poverty.
Tucson, AZ (PRWEB) November 04, 2013
The Gifting Store is a new online gift store that offers one-of-a-kind gifts with a purpose. Irene, owner of The Gift Store, has combined her love of eco-friendly gift giving with her deep rooted sense of responsibility to protect the environment. In addition, her business model incorporates partnerships with fair trade companies that guarantee the ethical treatment of artisans in developing nations. Irene says, "Our unique collections of gift items either protect our natural resources or, through fair trade practices, enable an artisan to rise above poverty."
The Gifting Store represents a number of fair trade artisans including Art Camp, Brass Images, Maya Traditions, Haitian Metal Art, and Noah's Ark. Irene believes strongly in fair trade. Fair trade is a practice in place to promote artisans of developing countries in the global marketplace and at the same time protect them from unethical and immoral practices. Every unique gift purchased from a fair trade artisan empowers that artisan and gives that artisan the opportunity to lift himself/herself out of poverty in a sustainable manner. Anyone who receives a gift created by a fair trade artisan will not only treasure the gift for its beauty and quality but will delight in the fact that it helped this individual improve the quality of their life. Many of their gifts for her are from fair trade artisans including a beautiful selection of fair trade bags that range from wallets to evening clutches.
Their eco-friendly gifts are manufactured from products that in one way or another protect their natural resources from depletion by utilizing sustainable materials or prevent materials that would have ended up as trash from polluting their environment. The Gifting Store has found artisans who create unique gifts from earth-friendly materials or recycled, repurposed or upcycled materials.
The Gifting Store offers options for any gift giving occasion--whether shopping for a baby shower gift, a wedding gift, a housewarming gift, or just something special for a friend. Irene says the adorable two piece I'm A Little Monkey One Piece Organic Gift Set makes a wonderfully unique organic baby shower gift idea. Moms and babies both will adore this I'm a Little Monkey Organic One Piece Gift Set organic onesie and organic monkey baby shoe set. "Our eco friendly home collection represents gifts that are protective of our environment and gifts that support fair trade practices.
The Gifting Store's collection of coasters and trays have products created by fair trade artisans in Chile, Kenya, Zambia and Rwanda. Fair trade practices allow these artisans to participate in the global marketplace competitively while enabling them to rise above poverty. Their unique collection of kitchen and tableware offer a variety of unique gifts handcrafted from recycled materials.
Many of their eco-friendly home products are one of a kind pieces of art that are handcrafted by fair trade artisans from around the world using recycled, repurposed or upcycled materials to create them. For a unique, one-of-a-kind eco-friendly gifts, there's a wide selection of wall décor, eco garden sculptures, novelty gifts and home accessories . Their housewarming gift sets are simply delightful. Irene says, "When you choose an eco-friendly gift, you are giving a gift that gives beyond the recipient."
The Gifting Store also has delightfully fun gifts for boys and girls for the holidays. Irene shares that "In their boys' gift collection you'll find fun novelty gifts that include creativity kits and even a kit to make your own chewing gum!" Their boy's accessories offer incredible monkey scarves from fair trade artisans in Colombia and hats made from hand-spun yarn by artisans in Rwanda. Boys will love snuggling up with their stuffed toys created by hand. A portion of the proceeds of their plush monkeys goes toward the rehabilitation and conservation of illegally trafficked monkeys.
The Gifting Store has selected an equally fun collection of gifts for girls. Their eco-friendly gifts for young ladies include accessories and jewelry hand crafted by fair trade artisans all over the world. Their novelty gifts for girls include kits to make art dolls, wool felt wearables and garden art just to name a few. Girls will love cuddling with their adorable stuffed toys - sure to become her new best friend.
The holidays are quickly approaching and Irene says, "The Gifting Store has the perfect gifts for everyone on your list as well as beautiful decorations for your home. " In the Holiday Gifts Collection, there's a wide selection of angels, ornaments, nativity scenes and holiday cards. Irene is happy to help customers select just the perfect gift for that special someone. She has always loved to give gifts - even more than getting gifts! "I love the whole concept of thinking of the best gift to give, shopping for the gift, imagining how the person will feel when they open the gift. Just thinking of this right now, puts warm fuzzies in my heart! In creating my business, one thing that I knew was very important to me was to create a business that not only was going to provide a way to support my family but was also going to make a positive difference in the world." She hopes her customers will enjoy giving gifts as much as she does and that they will take pride in knowing that they've made this world a better place when they select one of their eco-friendly or fair trade gifts to give.