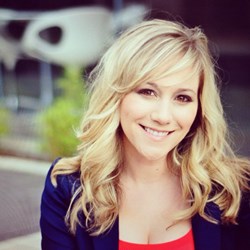 We were the recipient of great timing in the Atlanta market and felt New Orleans is an emerging tech hub where we can replicate our success.
New Orleans, La. (PRWEB) November 05, 2013
Within a year's time, AR|PR has become a go-to technology PR firm in Atlanta's tech startup community and with New Orleans receiving nods from Forbes, Inc. and The Atlantic as an attractive city for tech companies, the agency plans for even more success in the Big Easy.
"Soon after founding AR|PR in August of 2012, I quickly realized that early stage companies were attracted to the culture, value and services that we offered," said Anna Ruth Williams, founder + CEO of the firm. "We were the recipient of some great timing in the Atlanta market and felt New Orleans is an emerging tech hub where we can replicate our success."
New Orleans has the 19th highest density of tech startups in the United States and its information technology jobs are up 28 percent. AR|PR aims to capitalize on the market's momentum and serve the growing tech sector by becoming the first Louisiana PR firm solely dedicated to tech companies. Moreover, AR|PR recently renewed its relationship as the agency-of-record for Baton Rouge-based Cellcontrol – a high growth technology company located in Louisiana Tech Park.
AR|PR hired Louisiana native Blair Broussard to lead the expansion into the New Orleans market as the company's vice president. Most recently Blair served as a social media manager for New Orleans-based, Peter Mayer Advertising. Previously, she served as communications manager at Community Coffee Company, where she was featured in publications such as Inc.com, the Complete Idiot's Guide to Social Media Marketing book series and a Hootsuite social medial webinar series as someone who "gets" social media in the corporate world.
"With both agency and in-house communications and marketing experience, Blair was the perfect talent to lead our Louisiana expansion," said Williams. "Blair will lead the firm's key accounts as well as local business development efforts. With her enthusiasm, I'm confident we'll accelerate our aggressive growth plans and innovative service delivery models."
"At the heart of AR|PR is the firm's mission to showcase and support the Southeast's technology industry," said Broussard. "I'm excited to join a purpose-driven PR firm with a strong track record of results having landed clients in top tier national media outlets and achieved impactful social media successes."
Choosing Launch Pad was also integral in AR|PR's expansion as this collaborative co-working space, located next door to Idea Village, serves as a hub of the entrepreneurial community in New Orleans. As a member of Launch Pad, the firm will work alongside dozens of technology companies and entrepreneurs in a community designed to foster innovation.
To kick off les bons temps, AR|PR is celebrating in true New Orleans fashion -- with an Abita Beer in hand as they host a happy hour tomorrow in their new home, Launch Pad.
###
About AR|PR
Established in 2012, AR|PR is the go-to public relations firm for the Southeast's most cutting-edge technology companies. With offices in Atlanta and New Orleans, AR|PR's startup, early stage and mature clients represent all sectors of the technology industry, including hardware, software, healthIT and ecommerce. From corporate messaging to social media to media relations, AR|PR has a proven record of reaching audiences and building brands. For more information on the growing agency, visit annaruthpr.com and follow @AR__PR.