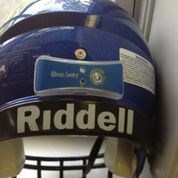 The Brain Sentry sensor is like a hidden gem on the helmet. You barely notice it's there, but what it is doing to protect our players is awesome.
Bethesda, MD (PRWEB) November 04, 2013
Brain Sentry Impact Sensors™, innovative helmet-mounted devices that alert when an athlete suffers a rapid – and potentially dangerous – acceleration of the head, are now being utilized by the Newcastle (OK) high school football team to help its coaches and trainers identify players who need to be evaluated for concussion. The Racers' use of the sensor will continue for the rest of the season.
Brain Sentry Impact Sensor's patent-pending sensor technology includes a micro-electromechanical, tri-axial accelerometer capable of measuring acceleration from any direction. Helmets provide varying levels of impact protection depending on the direction of the hit. Brain Sentry's proprietary, DAS™ technology (Directionally Adaptive Sensing) provides a consistent alert level – independent of hit direction or helmet type.
Greg Merril, co-founder and CEO of Brain Sentry, said, "Our compact sensor system accurately measures impact forces, it's affordable and it does not burden coaches. It is light (1-oz), waterproof, there is nothing to maintain, the batteries last all year without charging, and you don't even have to remember to turn it on or off."
Tony O'Brien, Superintendent, Newcastle Public Schools, said, "The Brain Sentry sensor is like a hidden gem on the helmet. You barely notice it's there, but what it is doing to protect our players is awesome."
The Newcastle Racers football team was featured in The Smartest Team: Making High School Football Safer, a documentary produced by Brooke de Lench, founder and publisher of MomsTEAM.com. This one-hour program premiered on Oklahoma Educational Television in August and has been airing on PBS in other U.S. markets throughout this fall. The goal of the documentary is to help football programs play smarter and safer.
Brain Sentry sensors are made in the U.S. and easily affix to the outside of the helmet (on the back). The product senses head impact and acceleration and serves as an early warning signal for coaches and trainers.
Unlike a structural injury that involves a ligament or limb, brain injuries are not always apparent or detectable, so athletes sometimes continue playing without knowing they are at risk for further debilitating outcomes.
Among the 135 million participants in team sports in the U.S., concussions are one of the most commonly reported injuries. According to The American Journal of Sports Medicine, 39% of the high school and collegiate football players that suffered catastrophic head injuries were found to have been playing with concussion symptoms at the time of the catastrophic event. Under-reporting of concussion is a significant problem that sensors can help address.
Brain Sentry's initial focus is to provide sensors for the three most popular helmeted contact sports: football, hockey and lacrosse. Brain Sentry is also developing sensors for biking, alpine, and other helmeted activities.
About Brain Sentry: Brain Sentry is privately held and headquartered in Bethesda, MD. The company was founded by a team of award-winning health-related product developers. Brain Sentry has a simple goal: to stop lives from being devastated by sports-related brain injuries. Learn more at http://www.brainsentry.com.