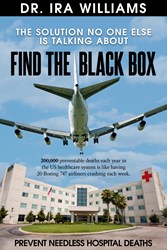 Greenville, SC (PRWEB) November 06, 2013
Becker's Hospital Review, in their October 24, 2013 Q&A article (http://is.gd/GXgMNp)
queries Williams regarding his views on the systematic problems within healthcare, and his offering of a new and different process for response to those problems.
Williams begins his responses with a brief review of the well-documented track record of efforts to improve the quality of healthcare beginning with the most significant study by Brennan and Leape (http://is.gd/LTnBli) in 1990, up to, and including the most recent study. That study by John T. James, PhD (http://is.gd/GzKOg3) argues the current number of preventable adverse events (PAEs) is quadruple that original 1990 estimate, and an additional estimate of 10 to 20 times more patients harmed due to non-lethal medical errors.
Williams elaborates, "My contrarian premise is based upon a combination of the following: Our entire healthcare system is, and always has been, devoid of an organizational structure, thus no position of highest authority, and additional positions of delegated authority throughout, necessary for meaningful accountability. Dr. Marty Makary's book "Unaccountable" provides clear evidence of the sad results. Keep in mind that both IOM "To Err Is Human" and Dr. Elizabeth McGlynn, in her seminal Rand Corp. study in 2004, recognized the absence of an organizational structure in that non-system, and every quality of healthcare expert since has passively accepted the absence of that critical element, while never recognizing its absence as a possible source of the huge, needless loss in lives."
Williams' solution is based upon a three-phase process, ending with the "big tent" phase. "Phase three, "big tent" phase, would hopefully begin with an opportunity for me to describe my plan for the complete reorganization of a state's healthcare delivery system. My plan will go far beyond anything anyone in healthcare has ever imagined. But healthcare is too enormous for any one person to have all the answers. Still, much of what I would offer can provide the stimulus for others to contribute their refinements. That is why I think the efforts to allow men to walk on the moon and return safely is a good analogy of how it takes the contributions of many to create a modern day healthcare delivery system. I would just like the first opportunity to offer my vision of the first draft."
Williams continued, "Think about this, over 150 years ago Semmelweis did not create the facts that hand hygiene and instrument sterilization would save lives. He recognized, tested and proved their life-saving value. Yet his findings were rejected by the medical leadership, first in Vienna, and later in Budapest. And where do we find ourselves now? It is estimated that about 50 percent of all needless hospital deaths today are due to insufficient hand and instrument hygiene, or as Yogi Berra would say." "It's de-ja vu all over again."
Williams concludes with, "Like Semmelweis, I say that since all medical care is local, states license doctors, and every state's medical examining board was created to regulate the practice of medicine in their state over 100 years ago, states must be responsible for the creation of a functional healthcare delivery system for their citizens. The practice of medicine is a scientific endeavor, and true scientific endeavors believe that well-developed offerings should be tested, and not like in the case of Semmelweis, summarily rejected, therefore prove me wrong!"