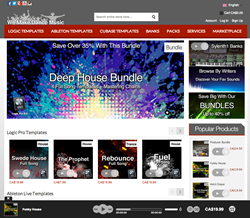 Inspire - Educate - Evolve
(PRWEB) November 06, 2013
We Make Dance Music, the ultimate destination for music production templates, services and products, announces the launch of their new and improved website which is scheduled to be fully rolled out on November 1st, 2013.
Music Producers and music enthusiasts around the world are invited to experience even more music production products and functionality on our newly designed website," said Alex Kalev at We Make Dance Music. The site now offers over 300 products for music producers of varying levels.
For products, the website now offers over 150 Logic Pro Templates, over 50 Ableton Templates and 25 Cubase Templates. Users can search for products by genre; House, Trance, Techno, Breakbeats as well as engineering templates. The customized search option makes We Make Dance Music's website a unique and easy user experience. The purchasing experience is made easy with instant product download and integrated credit card and PayPal options.
The marketplace tab of the site allows users to buy someone else's composition for a flat fee and includes full rights. Users can also get all audio stems, midi files and master recording file that were used during the song's production so that they can be remixed, remodeled and edited.
We Make Dance Music's team of professional engineers offers a bevy of premium services at a reasonable cost including Ghostwriting, Remixing, Mixing and Mastering.
About We Make Dance Music:
We Make Dance Music was founded by a crew of passionate dance music producers and engineers with a common idea of streamlining the music creation process by providing professionally produced templates for the most popular digital audio workstations. We Make Dance Music is the ultimate source for music producers and music enthusiasts around the world.
To learn more about We Make Dance Music, please visit http://www.wemakedancemusic.com/.