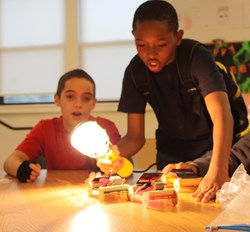 From assembling the cars to powering them with light bulbs, the children were engaged from start to finish.
Yonkers, NY (PRWEB) November 04, 2013
The Westchester Children's Museum (WCM) continued its creative and successful Museum Without Walls program on Tuesday, Oct. 29, bringing an interactive solar energy activity to the Yonkers YWCA. Third, fourth and fifth graders built and raced model race cars equipped with solar panels and motors, with light bulbs acting as the sole power source.
"The children learned how even a limited amount of light can generate enough electricity to make a small motor spin," said Bev McAllister, Program Coordinator for WCM's Museum Without Walls. "They had a great time racing their cars against one another."
The afternoon began with a lesson on radiant energy and ended with the cars speeding across a black-and-white checkered finish line, and had the kids using their hands and minds the entire time.
"From assembling the cars to powering them with light bulbs, the children were engaged from start to finish," said Zenitha Ireland, the Yonkers YWCA Childcare Director.
Museum Without Walls allows WCM to bring engaging learning tools and hands-on programs to locations around the region, like classrooms, community organizations, and parks, and has reached more than 9,000 children. Meanwhile, WCM is carrying out a capital campaign to build a brick-and-mortar museum. The campaign will raise $10 million within a 24-month window. Funding to date – contributed by community members, local organizations and area businesses – has allowed WCM to develop architectural plans and exhibit designs, launch and support its Museum Without Walls educational outreach program, and hire a talented and passionate staff. The museum plans to open its doors in 2015.
For more information, please call (914) 421-5050 or visit http://www.discoverWCM.org.
About Westchester Children's Museum
Westchester Children's Museum (WCM) will be a learning laboratory providing children, families, and school groups throughout Westchester County and the surrounding region with the opportunity to nurture curiosity, enhance knowledge, and ignite imagination through hands-on exploration. WCM is committed to broadening knowledge of the arts, the environment, multiculturalism, and the local and global communities in an educational and recreational atmosphere. Until its physical home is completed in 2015, WCM is dedicated to fulfilling its educational mission through its Museum Without Walls program, which has brought hands-on educational programs to more than 9,000 children since launching in March 2010. For more information or to get involved, please visit http://www.discoverWCM.org.