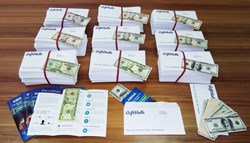 Many people all over the world will be getting money just for opening their mail
Tel Aviv, Israel (PRWEB) November 05, 2013
Today, Israeli startup GiftHulk announced a new marketing campaign entitled "They say nothing is free. We disagree". GiftHulk – an online rewards loyalty program - has decided to send money to numerous random American households with absolutely no strings attached. This innovative and original marketing strategy will help new audiences discover the ease of online money making opportunities presented by using the GiftHulk platform - without having to put forth a single cent.
In the coming weeks, random United States households will be getting envelopes in the mail from GiftHulk. These envelopes will contain crisp, brand new bills - that range from Lincoln's all the way up to Franklin's - and a GiftHulk brochure that outlines the features and the reward opportunities users will be enjoying when they sign up. The cash is free to be spent as each recipient pleases. All of the addresses used will be chosen at random.
GiftHulk plans on taking even more funds and sending them to larger number of random households across the United States. Canada and the United Kingdom, which are not included in the first wave, will also be added to the sending list. This means that many people all over the world will be getting money just for opening their mail.
GiftHulk developed a platform to help their users earn money online - a unique platform that makes the process easy, fun, and even addictive. Members can participate in brand engagement activities, discover new sites, services, mobile apps, and help companies design their next generation of products by completing targeted market research surveys. GiftHulk works with over 40 marketing and advertising agencies to bring each of their members as many money-earning opportunities as possible. This basically guarantees each member will run out of time long before they run out of opportunities to earn.
GiftHulk decided to use this never-before-seen marketing technique to bring new users to their platform, and expose more people to the benefits of being a GiftHulk member. Since a good portion of the United States is still unfamiliar with earning money online, this is GiftHulk's way of showing that money can be earned in the most straightforward way possible. Ofir Pas, the founder and CEO of GiftHulk, plus an established veteran of online marketing, says of his thriving company:
"At first when people hear about our program they are sometimes skeptical; they wonder if it's really possible to earn money online - the answer is yes, and GiftHulk made it easy and user friendly. We hope that with the help of this campaign we can double the current user base and cross the 1,000,000 member mark. Consumers can start earning money the instant they sign up, and add to their family's income each month - just in time to prepare for this year's holiday shopping season, which officially starts after Halloween. "
Online marketing budgets constantly grow and businesses struggle to find new ways to advertise. GiftHulk is allowing brands to interact directly with the user, while the user receives an incentive for such interactions. It allows GiftHulk members to take a bite of the marketing budgets pie. "At GiftHulk, users can earn money for online activities they are performing anyway. If you are not using GiftHulk - you are simply leaving money on the table," Pas summarizes.
For more information about GiftHulk, visit http://www.gifthulk.com.
About GiftHulk:
GiftHulk offers an easy and fun way for their members to earn money online. There are over 100 different rewards and gift cards each user can choose from when cashing out their earnings and the membership is free.
GiftHulk is a bootstrapped startup that was established in 2011 in Israel, and has shown significant profits since day one. GiftHulk has already given nearly $2 million in rewards to over 500,000 members currently using the GiftHulk platform.