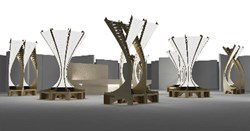 San Diego, CA (PRWEB) November 04, 2013
NewSchool of Architecture and Design (NSAD) students have developed a 12-foot-high modular bench design that will be on display at the ART SAN DIEGO Contemporary Art Fair 2013, Nov. 7–10 in San Diego's Balboa Park Activity Center. The 40 benches, produced by the students through a collaboration with ART SAN DIEGO, incorporate sustainable design practices and materials and can be reconfigured to suit the changing needs and ambiance of the fair's center lounge area.
To see a short video of the project: http://www.youtube.com/watch?v=IjxXXrs1daQ
ART SAN DIEGO, now in its fifth year, is San Diego's premier contemporary art fair attended by more than 10,000 people. This year ART SAN DIEGO is demonstrating the future of sustainable-friendly events by coordinating with several partners, including the NSAD students, to set a new standard for creating high design temporary furniture and event infrastructures using recycled materials. The interior design team for the Fair's center lounge area is a collaboration between Noble Environmental Technologies' material ECOR® and NSAD students who are part of the Numisius Colony of Alpha Rho Chi fraternity for architecture and the allied arts. This project is part of the student group's community outreach efforts to meet criteria in becoming a formal chapter.
"NewSchool of Architecture and Design students have a reputation for coming up with creative and relevant designs that enhance our communities through sustainable design approaches," said Ann Berchtold, founder and director of ART SAN DIEGO. "The students involved in this project demonstrated a professional-level commitment to working on this collaborative project, resulting in this innovative and delightful modular bench design for the fair's center lounge area that demonstrates the sustainable future of temporary events like ours."
For the center lounge space, Noble Environmental Technologies/ECOR® Lead Developer Matt Arrigo, an NSAD alumni, and company founder Robert Noble have designed and created a central seating area and other sectional pieces entirely with ECOR® products. The NSAD student team created complementary modular benches. The benches feature back-lighting and elongated backs that integrate fabric, creating a swooshing sail visual effect. The seating portion of the benches was designed with ECOR® material molded at NSAD's Materials Lab to provide a comfortable contour. NSAD students have also integrated sustainable approaches to minimize waste of source building material. The modular bench design allows for multiple configurations that can suit the changing needs of the space.
This project underscores the opportunities available to students at NSAD to put into practice sustainable design practices that are emphasized through the school's programs. It also demonstrates the interdisciplinary connections of design-related specialties such as architecture, interior design and product design. In addition to offering students global design study opportunities, NSAD's interdisciplinary design offerings provide a range of opportunities for students to develop valuable skills in related specialties such as construction management, digital media arts, product design and interior design.
About NewSchool of Architecture and Design
NewSchool of Architecture and Design (NSAD), founded in 1980, is located in San Diego, California. For the past two years, DesignIntelligence has ranked NSAD among the top 10 undergraduate architecture schools in the western United States in its publication "America's Best Architecture & Design Schools." NSAD is accredited by the Accrediting Council for Independent Colleges and Schools (ACICS), a national accrediting agency recognized by the U.S. Department of Education and the Council for Higher Education Accreditation. NSAD's Bachelor of Architecture, Master of Architecture and Executive Master of Architecture programs are accredited by the National Architectural Accrediting Board (NAAB). NSAD offers a pre-professional Bachelor of Arts in Architecture and a Master of Science in Architecture in addition to a Bachelor in Science in Construction Management and a Master of Construction Management. The school's expanding global design education offerings include a Bachelor of Interior Design program and a new Bachelor of Arts in Product Design program being offered in 2014–2015, both through the Domus Academy School of Design at NSAD. In addition to a Bachelor of Science in Digital Media Arts, the school is now offering a Bachelor of Arts in Animation for 2014–2015. For more information, visit http://www.NewSchoolArch.edu.
About Noble Environmental Technologies
ECOR® is a revolutionary product that is a 100% USDA certified bio-based alternative to luan or rain forest products including traditional wood, plywood, particleboard, fiberboard and other composite products. ECOR® is made with 100 percent cellulose fibers including post-consumer paper, forest wood and agricultural raw material sources. ECOR® offers a variety of non-toxic, 100% recycled and recyclable new design materials for consumer, commercial, industrial, and institutional markets. All ECOR products are made in the U.S.A.
ECORusa.com
About ART SAN DIEGO
ART SAN DIEGO 2013 with presenting sponsor UBS Financial Services will present its fifth edition of the fair once again in Balboa Park. This year's event will feature over 60 galleries from around the world, bringing some of the world's most intriguing artists to San Diego. ART SAN DIEGO 2013 will open to the PRESS and VIP's on Thursday, November 7th with the First Preview and the highly anticipated VIP Opening Night. The Fair will run November 8th -10th. Alongside our featured exhibitors, ART SAN DIEGO will present eight Art Labs in conjunction with our local museum partners and emerging art spaces, Spotlight Artists & Designers in solo-exhibitions, and collaborative exhibitions by the 2013 San Diego Art Prize Recipients. The Fair will also include numerous "unique creative collisions" in film, design, dance, music and digital projections.
http://artsandiego2013.com