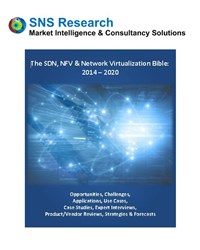 Rockville, MD (PRWEB) November 05, 2013
The SDN, NFV and Network Virtualization Bible: 2014 – 2020
While the benefits of Software Defined Networking (SDN) and network virtualization are well known in the enterprise IT and data center world, both technologies also bring a hosts of benefits to the telecommunications service provider/carrier community.
Not only can SDN and network virtualization help address the explosive capacity demand of mobile traffic, but they can also reduce the CapEx and OpEx burden faced by service providers to handle this demand by diminishing reliance on expensive proprietary hardware platforms.
SDN and network virtualization solutions have been widely deployed in data center and enterprise environments, and many service provider deployments are already underway.
Network Functions Virtualization (NFV) is service provider led initiative aimed at virtualizing network components in a service provider network. While NFV is still a developing technology with its first set of specifications published in October 2013, many vendors have already developed commercial-grade solutions that align well with the NFV initiative.
Driven by the thriving ecosystem, SNS Research estimates that the SDN, NFV and network virtualization market will account for nearly $4 Billion in 2014 alone. Despite barriers relating to standardization and co-existence with legacy networks, SNS Research estimates further growth at a CAGR of nearly 60% over the next 6 years.
This report presents an in-depth assessment of the global SDN, NFV and network virtualization market. In addition to covering underlying technology, key market drivers, challenges, future roadmap, value chain analysis, use cases, deployment case studies, expert interviews, company profiles, product strategies and strategic recommendations, the report also presents comprehensive forecasts for the market from 2013 till 2020.
To order this report:
The SDN, NFV and Network Virtualization Bible: 2014 – 2020
Contact: Shauna
800.298.5699
Customerservice(at)marketresearch(dot)com
Signals and Systems Telecom
Signals and Systems Telecom provides market intelligence and turnkey outsourcing services covering the telecommunications industry sector. Developed by leading industry analysts our market forecast reports provide unique insights to the global telecommunication industry with information ranging from niche details of handset models to tracking of large network infrastructure contracts and cellular network operator metrics. Whether your focus is strategic planning, development, or marketing our reports allow you to make better decisions with self-assurance.
About MarketResearch.com
MarketResearch.com is the leading provider of global market intelligence products and services. With research reports from more than 720 top consulting and advisory firms, MarketResearch.com offers instant online access to the world's most extensive database of expert insights on global industries, companies, products, and trends. Moreover, MarketResearch.com's Research Specialists have in-depth knowledge of the publishers and the various types of reports in their respective industries and are ready to provide research assistance. For more information, call Cindy Frei at 240.747.3014 or visit http://www.marketresearch.com
Follow us on Facebook http://www.facebook.com/marketresearchdotcom
Follow us on Twitter http://www.twitter.com/marketresearch_
The SDN, NFV and Network Virtualization Bible: 2014 – 2020 – Table of Contents:
1 Chapter 1: Introduction
2 Chapter 2: An Overview of SDN, NFV & Network Virtualization
2.1 What is Network Virtualization?
2.2 What is Software Defined Networking (SDN)?
2.3 SDN Protocols
2.3.1 OpenFlow
2.3.2 Border Gateway Protocol - Traffic engineering (BGP-TE)
2.3.3 Path Computation Element Protocol (PCEP)
2.3.4 Interface to the Routing System (I2RS)
2.3.5 Virtual Extensible LAN (VxLAN)
2.3.6 Application Layer Traffic Optimization (ALTO)
2.3.7 IETF Software Driven Networks
2.4 SDN Implementation Approaches
2.4.1 Network Virtualization Approach
2.4.2 Evolutionary Approach
2.4.3 The "Central Control" Approach
2.5 What is Network Functions Virtualization (NFV)?
2.6 NFV Enabling Technologies
2.6.1 Cloud Computing and Network Virtualization
2.6.2 Open Management and Control Protocols
2.6.3 Industry Standard High-Volume Servers
2.7 How SDN and NFV Differ from Each Other
2.7.1 Similarities and Differences
2.7.2 Can Both Technologies Complement Each Other?
2.7.3 How Are Vendors Positioning their Solutions?
2.8 Market Drivers
2.8.1 Leveraging Generic Low-cost Hardware
2.8.2 Multi-tenancy on Same Hardware
2.8.3 Reduced Power Consumption
2.8.4 Faster Time to Market (TTM)
2.8.5 Improved Operational Efficiency & Performance
2.8.6 Centralized Provisioning and Network Control
2.8.7 Ability to Launch New Services & Virtual Networks Quickly
2.8.8 Dynamic Scaling of Services
2.8.9 Opening the Door to Multi-vendor Interoperability
2.8.10 CapEx and OpEx Reduction
2.8.11 Fast Troubleshooting and Improved Diagnostics
2.8.12 Vendor Support
2.9 Market Barriers
2.9.1 Lack of Standardization & Technology Maturity
2.9.2 Uncertain Cost-Benefits Tradeoffs
2.9.3 NFV May Slow/Delay Traffic
2.9.4 Will Multi-vendor Interoperability Really Work?
2.9.5 Co-Existence with Legacy Networks: Integration Challenges
3 Chapter 3: SDN/NFV Use Case Scenarios and Deployment Case Studies
4 Chapter 4: Industry Roadmap and Value Chain
5 Chapter 5: Standardization Bodies & Alliances
6 Chapter 6: Expert Opinion
7 Chapter 7: Company Profiles
8 Chapter 8: Market Analysis & Forecasts
9 Chapter 9: Conclusion & Strategic Recommendations