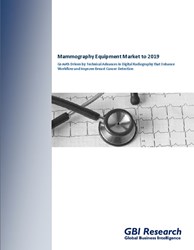 Rockville, MD (PRWEB) November 06, 2013
Mammography Equipment Market to 2019
Technical advances such as breast tomosynthesis, contrast-enhanced mammography, C-View 2D and new algorithms for CAD are expected to drive the future growth of the global mammography equipment market. Hologic's breast tomosynthesis is a 3D mammography system, which substantially increases the sensitivity and specificity with which breast cancers can be detected. Contrast-enhanced mammography is another 2D technology that can be used as a standalone system or in combination with breast tomosynthesis for the more effective detection of breast cancer. C-View 2D is a yet another advanced application that can eliminate the need for 2D mammography.
The global mammography equipment market amounted to approximately $420m in 2012 and is expected reach more than $650m by 2019, at a Compound Annual Growth Rate (CAGR) of 6%, forecasts business intelligence provider GBI Research. The new report states that Hologic was the leader in the global mammography equipment market in 2012 with a 49% share, followed by GE Healthcare, Siemens Healthcare and FujiFilm Holdings Corporation with 20%, 15% and 5% shares, respectively.
Srikanth Venkataraman, GBI Research's Analyst, says: "These advancements have led to improvements in breast cancer detection rates and a reduction in image acquisition and reconstruction time, which has in turn enabled medical practitioners to handle a higher volume of procedures." In most developed countries, there is a fixed reimbursement fee for DR, but compensation for breast tomosynthesis procedures is either lacking or inadequate.
"Mammography - Growth Driven by Technical Advances in Digital Radiography that Enhance Workflow and Improve Breast Cancer Detection" looks at the market, competitive landscape, and trends for the two mammography equipment market segments: digital radiography mammography equipment and film-screen mammography equipment. Key countries are: the US, Canada, the UK, Germany, France, Italy, Spain, Japan, China, India, Australia and Brazil.
To order this report: Mammography Equipment Market to 2019
Contact: Shauna
800.298.5699
Customerservice(at)marketresearch(dot)com
GBI Research
GBI Research provides industry-leading global business intelligence solutions. Our products and services help companies make better business decisions, win business and position themselves more effectively. GBI Research publishes more than 100 research reports per annum across a wide range of industries. Our reports draw on in-depth primary and secondary research, databases of proprietary in-house data and high quality analysis from our expert teams. GBI Research employs hundreds of highly qualified Analysts across the US, Europe and Asia.
About MarketResearch.com
MarketResearch.com is the leading provider of global market intelligence products and services. With research reports from more than 720 top consulting and advisory firms, MarketResearch.com offers instant online access to the world's most extensive database of expert insights on global industries, companies, products, and trends. Moreover, MarketResearch.com's Research Specialists have in-depth knowledge of the publishers and the various types of reports in their respective industries and are ready to provide research assistance. For more information, call Cindy Frei at 240.747.3014 or visit http://www.marketresearch.com.
Follow us on Facebook http://www.facebook.com/marketresearchdotcom.
Follow us on Twitter http://www.twitter.com/marketresearch_.
Mammography Equipment Market to 2019 – Table of Contents:
1 Table of Contents
2 Introduction
3 Market Access – Regulatory Process, Distribution and Supply Chain
4 Reimbursement Trends
5 Global Mammography Equipment Market: Market Characterization
6 Global Mammography Equipment Market: Country Analysis
7 Global Mammography Equipment Market: Cost and Efficacy Analysis
8 Global Mammography Equipment Market: Comparison of DR mammography systems
9 Global Mammography Equipment Market: Key Company Profiles
10 Global Mammography Equipment Market: Pipeline Analysis
10.1 Profiles of Promising Products under Clinical Development
10.1.1 3D Full-field digital mammography
10.1.2 Full-field Digital Mammography Machine 1824
10.1.3 Mammomat Inspiration Prime Edition
10.1.4 SecondLook Premier Digital CAD System
10.1.5 Selenia Dimensions 2D Contrast Imaging
10.1.6 SenoCase
10.1.7 Senographe Essential – Breast Tomosynthesis
10.1.8 Soteria
10.1.9 X-Ray Light Valve Full-field Digital Mammography Machine 2530
11 Global Mammography Equipment Market: Consolidation Landscape
12 Appendix