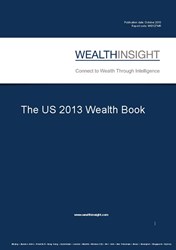 Rockville, MD (PRWEB) November 07, 2013
The US 2013 Wealth Book
At the end of 2012, there were approximately 5.8 million HNWIs in the US holding a combined worth of US$21.7 trillion in wealth, which equates to around 35% of total individual wealth held in the country. This percentage is above the worldwide average of 29%, which indicates that the spread of wealth in the US is more even than the worldwide norm.
Key Highlights:

During the review period, the number of HNWIs who acquired their wealth through the financial services industry increased by 63%.
Equities and alternative products recorded the strongest growth during the review period, driven by strong recovery in the US economy.
There were 44,934 UHNWIs in the US in 2012, with an average wealth of US$138 million per person, making them the prime target group for wealth sector professionals. Of this total, there were 443 billionaires, 13,080 centimillionaires and 31,411 affluent millionaires in 2012.
At the end of 2012, US HNWIs held 23.6% (US$5.1 trillion) of their wealth outside their home country, which is within the range of the worldwide norm of 20–30%.
This report is the result of WealthInsight's extensive research covering the high net worth individual (HNWI) population and wealth management market in the US. The report focuses on HNWI performance between the end of 2007 (the peak before the global financial crisis) and the end of 2012. This enables us to determine how well the country's HNWIs have performed through the crisis.
To order this report:
Contact: Shauna
800.298.5699
Customerservice(at)marketresearch(dot)com
WealthInsight
WealthInsight provides detailed data and insightful analysis on the world's High Net Worth Individuals (HNWI) and wealth sector. With decades of experience providing business information, WealthInsight helps organisations to make informed decisions and win new business.
At WealthInsight's core are our proprietary Dossiers of the world's wealthiest individuals. Around this database, we have built a number of valuable research based products and services that make WealthInsight much more than just a rich contact list.
About MarketResearch.com
MarketResearch.com is the leading provider of global market intelligence products and services. With research reports from more than 720 top consulting and advisory firms, MarketResearch.com offers instant online access to the world's most extensive database of expert insights on global industries, companies, products, and trends. Moreover, MarketResearch.com's Research Specialists have in-depth knowledge of the publishers and the various types of reports in their respective industries and are ready to provide research assistance. For more information, call Cindy Frei at 240.747.3014 or visit http://www.marketresearch.com.
Follow us on Facebook: http://www.facebook.com/marketresearchdotcom
Follow us on Twitter: http://www.twitter.com/marketresearch_
The US 2013 Wealth Book – Table of Contents:
1 Introduction
2 Executive Summary
3 Wealth Sector Fundamentals
4 Findings from the WealthInsight HNWI Database
5 Analysis of US HNWI Investments
6 Competitive Landscape of the Wealth Sector
6.1 Competitive Landscape
6.1.1 Private Banks
6.1.2 Wealth managers
6.1.3 Family offices
6.1.4 Financial advisors
6.2 Developments in the US Private Banking Industry
6.3 The US Wealth Management Industry – Clientele Model and Maturity
6.4 Behavioral Mapping of Wealth Management and Private Banking in the US
6.5 Porter's Five Force Analysis – the Wealth Management Industry
6.6 Financial Services Review
6.6.1 Retail Banks
6.6.2 Funds management
7 Appendix
8 About WealthInsight