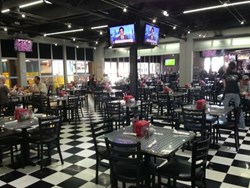 Tucson, AZ (PRWEB) November 04, 2013
Leading restaurant furniture manufacturer and distributor Affordable Seating recently helped Tucson, Arizona's only racing inspired restaurant and garage, Hot Rod's Old Veil to a resoundingly successful grand opening which attracted hundreds of people.
Hot Rod's Old Veil Restaurant and Garage is a great destination for racing enthusiasts and Arizona residents looking for good, traditional American food. Hot Rod's is located on a large lot with a spacious 2 story structure that houses a restaurant, bar and garage. There are many muscle cars, hot rods and racing motorcycles to browse in the parking lot. Inside there is a wealth of racing memorabilia as well as a number of flat screen televisions to watch the races on. There is a large area for eating and comfortable couches to watch television. Upstairs there is a bar just for adults and a rooftop patio with a spectacular view of Tucson and the surrounding mountains and desert.
Hot Rod's Old Veil has already held several special events in its short history and plans many more for the future. Recent events have included a bike night where racing motorcycles were displayed, their first annual charity car show to benefit the Lustgarten Foundation to cure pancreatic cancer and a motor bike and car show to help fight breast cancer. On November 7, 2013 Nascar driver Kyle Busch will be at Hot Rod's from 2 – 4 p.m. for autograph signing.
Affordable Seating salesman David M. helped the owner of Hot Rod's Old Veil find the right bar stools and matching chairs to help properly outfit the bar and grill in the Tucson area. Hot Rod's is a unique place with a family friendly atmosphere. The special events, many different racing cars and great food draws high traffic so the owner needed tough durable seating. He also wanted restaurant seating that comfortable and looks good.
The owner and David agreed that Affordable Seating's Metal Ladder Back Chairs and matching Bar Stools were a logical choice. The Ladder Back Chairs and Bars Stools have a classic all-American look, are very comfortable and durable. The Ladder Back Metal Chairs sell for only $31. 50 and the matching Bar Stools sell for only $49.99. He got the frame in the standard black finish with black vinyl seats. The frame is available in 4 other colors for and additional charge. The seats come in vinyl or fabric wide a wide selection to choose from. A solid wood seat is also available in 6 different finishes.
For more information, visit http://www.affordableseating.net/ to browse its selection of restaurant chairs, bar stools, table tops, table bases, booths, patio furniture and sale items.
Hot Rod's Old Veil is located at 10500 E Old Vail Road in Tucson. They can be reached at (520) 202-0987. You can visit their website at: http://hotrodsoldvail.com/Home_Page.html.