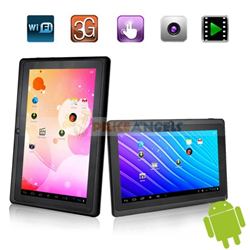 Everything here is perfect for those with a limited budget.
(PRWEB) November 07, 2013
PriceAngels.com, a reliable China based company, is providing a lot of cool gadgets online. Its products include electronics, spy gadgets, smartphones, tablets and more. Furthermore, the company is well-known for its cheap tablets. Today, the company has happily announced a new range of cheap tablets for customers around the world.
The CEO of the company states, "We are excited to release our new products, maybe the cheapest tablets in the world, to our customers. Despite the low prices, they are all of top quality and made according to the hottest designs in the current market. If you want to get a very wonderful cheap tablet, you can visit PriceAngels.com."
PriceAngels.com offers various kinds of computers and networking accessories at its online store, such as the Tablet PC, USB Gadget, mice, keyboards, microphones, speakers and so on. Its commitment includes low price, high quality, fast delivery, free shipping and friendly service.
James, a boy from Birmingham, says, "I am a happy customer of PriceAngels.com. The tablet is in very good condition. It is comfortable to read with it. There are plenty of different applications installed in it. It works very well. What's more, it is cheaper than in my country, and the delivery is fast. I will come for a second time."
About PriceAngels.com
PriceAngels.com has rich experience in the wholesale and retail of China electronics. The reason to choose PriceAngels is very simple: PriceAngels offers premium quality cool gadgets at affordable prices, and all their products have free shipping. Moreover, with a perfect online presence, PriceAngels.com is able to serve its clients anywhere in the world. For more details, please view: http://www.priceangels.com/.
Follow PriceAngels at:
Facebook: https://www.facebook.com/PriceAngels
Twitter: https://twitter.com/Priceangels2008