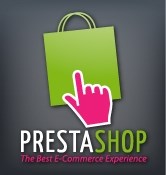 PrestaShop merchants have immediate access to social tools that were previously only available to large retailers.
Miami, FL (PRWEB) November 05, 2013
PrestaShop, the world's leading e-commerce software powering more than 150,000 online stores around the world, announces the success of a strategic partnership formed with AddShoppers earlier this year, which empowers online merchants with a strong social influence on the web.
Thanks to this partnership, online merchants using AddShoppers' free module for PrestaShop are increasing sales from social customer referrals and tracking the ROI of social sharing. By integrating AddShoppers to their online stores, PrestaShop users optimize their e-commerce site for social sharing by adding sharing buttons to product pages and incentivizing shares with coupons.
"Partnering with AddShoppers is an opportunity to further empower PrestaShop users with tools to increase traffic, strengthen brand awareness and boost profitability for their online stores. With AddShoppers, our merchants' gain stronger influences over social networks and as a result grow their client base and customer loyalty," comments Benjamin Teszner, CEO of PrestaShop.
"PrestaShop is a great e-commerce platform that's both easy to use and powerful. We partnered with them to help their users track and increase their social sharing and sales. By using our social apps, PrestaShop merchants have immediate access to social tools that were previously only available to large retailers," says Peter Messmer, Director of Customer Success at AddShoppers.
PrestaShop merchants using v1.5 or above can install AddShoppers to their e-commerce site directly from their back-office or find it available for free on PrestaShop's Official Marketplace. The success of this partnership alongside PrestaShop's upcoming and highly anticipated 7th Annual Barcamp, are strengthening PrestaShop's prominent role as the world's preferred e-commerce solution.
About PrestaShop
PrestaShop is a free and Open-source e-commerce software powering over 150,000 active online stores worldwide. Recognized as the world's most powerful, flexible and internationalized e-commerce solution, PrestaShop provides online merchants with hundreds of innovative tools to build and manage a successful online store at no cost. Used in over 150 countries and partnered with the most renowned names in the industry, PrestaShop continues to revolutionize online retail with technology that increases sales and maximizes visibility. Working hand-in-hand with its growing community of over 500,000 dedicated members, PrestaShop's entrepreneurial team is made up of e-commerce enthusiasts that are committed to the success and profitability of their online merchants. PrestaShop is the proud two time winner of Packt Publishing's Best Open-Source Business Application, winner of Europe's Bsoco Award in the 2013 CMS category and rated #1 Open-source Shopping Cart by EcommerceBytes Sellers Choice Awards 2013. For more information about PrestaShop visit http://www.PrestaShop.com, follow @PrestaShop on Twitter and like Facebook.com/PrestaShop.