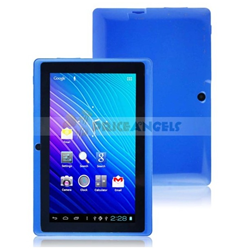 (PRWEB) November 09, 2013
Recently, a renowned Chinese electronics wholesale supplier, PriceAngels.com, has released its cheapest Android tablet collection. What's more, the company has announced a special offer on the new Android tablet. The special offer is valid until the end of this month.
According to the development manager for PriceAngels.com, all these cheap Android tablet items are now available at discounted rates, up to 15% off. The company has over 400 kinds of Android tablets for sale. Among them, SuperPai 10-inch Touch Screen Google Android 2.2 Tablet PC is the best seller.
A customer says, "I ordered my SuperPai 10-inch Touch Screen Google Android 2.2 Tablet PC last week. The price is quite reasonable. I ordered it for my daughter. She likes it very much. She uses it every day. It is very convenient to carry and use. It is really beyond our expectation. Thank you."
"We are proud to release the new collection of cheapest Android tablets and launch the special offer. I sincerely hope you will like them. We decided to make those cheapest Android tablet items of top quality, with the special intention of expanding the online market. You can trust us. Our company has been specializing in the electronics industry for years."
About PriceAngels.com
PriceAngels.com has much experience in the wholesale and retail of China electronics. The reason to choose PriceAngels is very obvious: PriceAngels offers premium quality cool gadgets at affordable prices, and all their products are free shipping. Moreover, with a perfect online presence, PriceAngels.com is able to serve its clients anywhere in the world. For more details, please view: http://www.priceangels.com.
Follow PriceAngels at:
Facebook: https://www.facebook.com/PriceAngels
Twitter: https://twitter.com/Priceangels2008