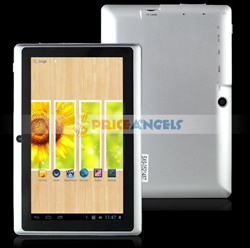 Everything here is perfect for those with a limited budget.
(PRWEB) November 11, 2013
Today, PriceAngels.com, a famous Chinese electronics wholesale company, has announced its new collection of Q88 Tablets. According to the CEO of the company, these fresh Q88 Tablets are specially made to expand the American market.
PriceAngels.com is a leading supplier in the electronics industry. It offers a large number of cool gadgets, such as electronics, smartphones, tablets, spy gadgets, Android TV Boxes and so on. It often launches special offers on its newly-released products to show appreciation to its customers from all over the world.
The new collection of Q88 tablets comes with plenty of highlights. For example, they have an Infotmic iMAPx15 Dual Core processor with a Mali-400 graphics core for fast and fluid performance. The powerful Android 4.1.1 operation system enables customers to download thousands of apps at no cost conveniently. It supports Wi-Fi, 3G and Ethernet 3, so clients can surf the internet anywhere. And the battery is durable, with over 10 hours of reading, watching videos, or listening to music on a single charge.
"We are so proud to release our new Q88 Tablets. This time we would like to expand the America market. Our products are warmly welcomed by clients from every part of the world, so we are sure that these new tablets will sell well in the American market," the CEO says.
About PriceAngels.com
PriceAngels.com has much experience in the manufacturing and retail of China electronics. The reason to choose PriceAngels is very simple: PriceAngels offers premium quality cool gadgets at affordable prices, and all their products have free shipping. Moreover, with a perfect online presence, PriceAngels.com is able to serve its clients anywhere in the world. For more details, please view: http://www.priceangels.com.
Follow PriceAngels at:
Facebook: https://www.facebook.com/PriceAngels
Twitter: https://twitter.com/Priceangels2008