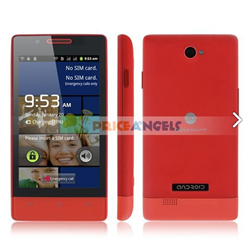 Everything here is perfect for those with a limited budget.
(PRWEB) November 13, 2013
PriceAngels.com, a well-known online company of electronics products, has recently announced its exclusive collection of cool gadgets. According to the CEO of the company, the company will launch a site-wide promotion of cool gadgets in the next few days.
The new collection of cool gadgets provided by PriceAngels.com includes electronics, smartphones, tablets, spy gadgets, vehicle models, RC helicopters, USB drives, earphones, bike lights, car alarms and so forth.
The products from PriceAngels.com receive high praise from people. The company promises to keep offering cool gadgets for customers from around the world. Its Q88 Tablets, Android tablets, iPhone accessories, Smartphones spy gadgets have won great worldwide reputation. The original purpose of the company is to offer the opportunity for all its customers to keep in touch with high technology.
The CEO states, "We feel very excited to announce our exclusive collection of cool gadgets. We devote ourselves heart and soul to each product. Up to now, we have more than 2,000 happy customers in the global market. A lot of our items have received positive customer comments on the Internet. We aim to be an excellent brand in the electronics wholesale industry."
About PriceAngels.com
PriceAngels.com has rich experience in the wholesale and retail of China electronics. The reason to choose PriceAngels is very simple: PriceAngels offers premium quality cool gadgets at affordable prices, and all their products have free shipping. Moreover, with a perfect online presence, PriceAngels.com is able to serve its clients anywhere in the world. For more details, please view: http://www.priceangels.com/.
Follow PriceAngels at:
Facebook: https://www.facebook.com/PriceAngels
Twitter: https://twitter.com/Priceangels2008