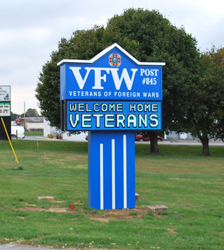 The LED sign is one tool that the public will see every day...fostering patriotism within the community.
Downingtown, PA (PRWEB) November 05, 2013
"A Veteran - whether active duty, retired, national guard, or reserve, is someone who, at one point in his or her life, wrote a blank check made payable to The 'United States of America', for an amount of 'Up To and Including My Life.' That is 'Honor'!"
This is the first paragraph a visitor reads when they visit VFW Post 845's website. Is it a statement that Post 845 holds dear and believes in with much heart and integrity? Is it a declaration along with a strong mission the VFW plans to share with new technology they recently acquired: an outdoor LED message sign? In waving digital glory and dynamic patriotic colors, Post 845 will be preserving and defending the honor, integrity and rights of all veterans and those currently serving in the military.
Miguel Hernandez with the VFW proudly stated, "The purpose of the Veterans of Foreign Wars of the United States is to preserve and support the patriotic and historical interests of our country, our communities and our veterans; to strengthen the common bonds of the men and women who have served and who are currently serving in our military; to assist them and their families; to enhance their quality of life; to maintain true allegiance to the Constitution and laws of the United States of America and defend her from all enemies, whomsoever."
He continued, "The LED sign is one tool that the public will see every day to help us perpetuate the memory and history of our dead while fostering patriotism within the community."
The VFW chose to work with KC Sign and Awnings in Aston, PA. They installed a Vantage LED Phoenix™ Full Color LED sign featuring the powerful Darwin™ Industrial Control Unit that can handle the most demanding high resolution video and graphics. The VFW controls the LED sign using the simple, yet powerful, LightSpeed™ software. The software is user friendly for the simple user, yet still packed with advanced features for the most tech savvy user.
Mr Hernandez added, "KC Sign was the most responsive and knowledgeable when it came to LED signage in our area. I am very happy with KC Sign Company and our new LED Sign display. Joe Clark walked us through the whole process and was extremely knowledgeable about all types of signage, including LED signs and the permitting process in our township. I would highly recommend him and KC Signs to anyone looking to install an LED sign."
The LED sign can also be utilized to better advertise their many offerings like the live music and performance at their newly renovated bar and restaurant.
A great partnership between KC Sign & Awnings and VFW Post 845 has created another act of remembrance in Downingtown, PA for our Veterans.
KC Sign & Awnings services all types of customers from local companies to national and regional chains. Their commitment to providing high quality signage has enabled them to become one of the largest providers of all types of signage in the region. This dynamic new sign at their corporate manufacturing facility advertises the quality and breadth of services this company provides.