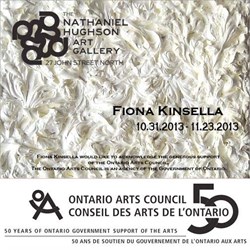 Hamilton (PRWEB) November 06, 2013
The Nathaniel Hughson Gallery Presents Fiona Kinsella, October 31 through November 23, 2013. Opening reception November 8 Art Crawl, 6 p.m. to 10 p.m..Known for her intricate work with bakers fondant; creating beautiful yet slightly grotesque cakes adorning such items as antique silver as well as human teeth.
Fiona Kinsella is a mixed media artist and painter based in Hamilton, Ontario. Kinsella has exhibited across North America and Europe. Her practice has been recognized both provincially and nationally with grants awarded by the Ontario Arts Council and the Canada Council for the Arts. In 2008, she was honoured with a nomination from theOAC for the K.M. Hunter Artists Awards.
Fiona is a graduate of the University of Guelph's Department of Fine Art; and she holds a postgraduate diploma in Computer Graphics from the Department of Animation & Design, Sheridan College. Fiona is the Associate Editor and Designer of Hamilton Arts & Letters magazine. http://www.HALmagazine.com
Recent exhibitions include group shows at the Art Gallery of Hamilton, the Macdonald Stewart Art Centre, and Centre3 for Print and Media Arts.
For more information about Fiona Kinsella: http://www.fionakinsella.com
Opening Reception – Artist in Attendance
Friday November 8, 2013 6 p.m. to 10 p.m.
Gallery Hours:
Wednesday: 12-5 Thursday:12-7 Friday: 12-8 Saturday: 12-5, Sunday to Tuesday by appointment.
About the Nathaniel Hughson Gallery:
The Nathaniel Hughson Art Gallery on John Street North opened its doors in September 2012. The commercial gallery is dedicated to representing contemporary Ontario artists in their early and mid careers and is a destination for anyone looking for something unique to add to their collection
The Nathaniel Hughson Gallery is located at:
27 John Street North
Hamilton, Ontario, L8R 1H1
Phone 905.923.1192
Email info(at)nathanielhughsongallery(dot)com