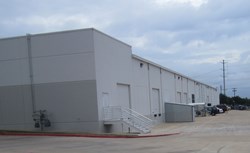 "We are glad to be able to put this lawsuit behind us and use the proceeds to turn around our investment." - Marilyn Brodersen, a tenant-in-common investor
Austin, TX (PRWEB) November 05, 2013
Breakwater Equity Partners, a commercial real estate consultancy and restructuring firm, has secured a $2.25 million settlement agreement between Lexington Insurance Company and the owners of Met Center 1 and 2 (Case No. 12-16981). The 17 tenant-in-common owners will use the monies to resolve the expansive soil problem under the buildings and repair the structural damage.
Met Center 1 and 2, two flex office buildings totaling 94,831 square feet, were built in 2001 as part of Austin's Met Center Business Park. The Met Center buildings have been plagued with expansive soils issues. When the tenant-in-common investors purchased the buildings in 2006, the sponsor did not disclose that the clay and minerals in the soil below the slabs cause them to expand and contract in response to changes in moisture levels. The heaving foundation caused the walls and ceilings to crack.
In April 2009, Grubb & Ellis, the now bankrupt real estate firm, was the property manager of Met Center1 and 2. Grubb & Ellis agreed to an insurance settlement of about $565,000 from Lexington, allegedly without the owners' knowledge or consent. According to court documents, Grubb & Ellis did not perform an engineering study, and settled the case for an amount that was insufficient to correct the problems.
Facing foreclosure, the owners hired Breakwater to save the asset, solve the expansive soil issue, and return the property to profitability. Breakwater discovered the purported insurance settlement from 2009 and assisted the investors in pursuing additional damages from Lexington. Included in the lawsuit settlement are tort claims against individuals involved in the sale and management of the property.
"We were appalled to discover that an insurance claim was settled without our knowledge," said Marilyn Brodersen, one of the steering committee members. "We trusted these companies with our life savings, and they took advantage of us. We are glad to be able to put this lawsuit behind us and use the proceeds to turn around our investment. Many of us are counting on the dividends from this investment to assist us in our retirement."
"This property has been a nightmare for the investors," said Jason Panzer of KP&P Law, an Austin law firm. "We are delighted to obtain a settlement of this size for our clients. These settlement dollars will be crucially important as the owners move forward with Breakwater to remediate the damage and restructure the property."
About Breakwater Equity Partners
Breakwater Equity Partners is a San Diego-based commercial real estate advisory, restructuring and investment firm. Through Breakwater's extensive experience on over 200 engagements with loan values in excess of a $3B, the firm has devised a unique, multidisciplinary approach to analyzing and optimizing commercial assets. Breakwater's professional team combines legal, financial, economic, lender, tax, and regulatory expertise to devise customized strategies for each property regardless of market (primary to tertiary), asset class (office, retail, multi-family, industrial, flex, land), loan type (portfolio or CMBS) or circumstance (performing or non-performing).
Breakwater Equity Partners, please call 858-490-3630 or visit http://www.breakwaterequity.com.