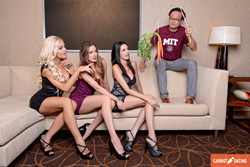 'Who says nice guys have to finish last?' says Wade. 'Carrot Dating brings romance back into the dating game by encouraging men to never go to a first date empty-handed. And in return, women will always give nice guys a chance.'
Los Angeles, CA (PRWEB) November 04, 2013
There's only one method of manipulation that has stood the test of time: bribery. It is the best way to motivate animals to do exactly what you want. Now, with the help of a new mobile application, singles can motivate men and women to go on dates.
Carrot Dating is the world's first app where users can get more first dates through the act of bribery. The app's concept taps into the primal urges of men and women. Unlike traditional dating sites, Carrot adds an incentivized twist to the world of romance with a promise that users will never leave a date empty-handed.
"When I was younger, I realized that a nerdy smile and a sweet personality isn't enough to attract beautiful women. Rejection was not only embarrassing, but also painful," says Brandon Wade, Founder of the Carrot Dating app. "Then, I realized that women love presents like dogs love treats. Just as an unfriendly dog wouldn't deny a tasty treat, any beautiful girl can be bribed into giving you a first date."
The app features a variety of bribes to choose: from free meals and drinks, to even a tank of gas or plastic surgery. Bribes are sorted into five categories: "Dining," "Entertainment," "Gifts," "Activities," and "Popular." In order to communicate, men and women are first required to choose a bribe. Once the bribe has been accepted, both users can schedule their bribery exchange and the first date.
"Who says nice guys have to finish last?" says Wade. "Carrot Dating brings romance back into the dating game by encouraging men to never go to a first date empty-handed. And in return, women will always give nice guys a chance."
For more information regarding Carrot Dating, or to schedule an interview, please contact Leroy Velasquez at (702) 635-2440 or Press(at)CarrotDating(dot)com.
About Carrot Dating
The Carrot Dating app is the world's first app where users can bribe their way to a first date. The Carrot Dating app was launched in September 2013 and invented by MIT alum and online dating expert, Brandon Wade. It joins a family of successful niche dating websites, including SeekingArrangement.com - the world's first website for mutually beneficial relationships; WhatsYourPrice.com - the world only online dating auction; SeekingMillionaire.com - the premier millionaire matchmaking website; and MissTravel.com - the world's only travel-dating website.