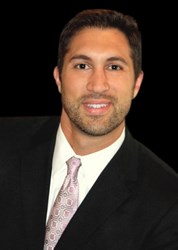 I look forward to exchanging ideas within the Chairman's Club community to enhance our firm's best practices. -- Jeremy Office, Principal of Maclendon Wealth Management
New York, NY (PRWEB) November 07, 2013
Jeremy Office, Ph.D., CFP®, CIMA®, and principal of Maclendon Wealth Management, has accepted an invitation to be a founding member of the FA today Chairman's Club, a group of accomplished business leaders who will set the direction for FAtoday.com, the digital platform for Independent Financial Advisors (IFAs) only.
The Chairman's Club is an exclusive advisory board that provides active guidance for FA today. Members are some of the site's most active members, posting comments and setting an example for other members on high standards of professionalism and successful practice management. Chairman's Club members also take a lead role in providing feedback to FA today to improve the website and make it more useful to its IFA members.
FAtoday.com, which recently had its beta release launch, offers personalized, professional news feeds and a digital professional environment exclusively for IFAs. Only validated IFAs are eligible for membership. Using a combination of intelligent filtering and behavioral modeling, FA today serves members the content that is most interesting and useful to them from a variety of relevant sources in one place.
The appointment was made this week by Jason Bishara, president of FA today, Inc., after Jeremy Office accepted his personal invitation. Chairman's Club members are invited to join based on their widely recognized leadership qualities, digital savvy, and demonstrated success running an IFA practice.
"Jeremy is a leader in wealth management, especially for entrepreneurs. We are grateful to Jeremy for providing his time and effort to make FAtoday.com the definitive source of news and information that help IFAs build their practices. Jeremy is a leader in using the latest technology and building relationships in his own practice, and we are so happy that he is willing to share his expertise," Bishara said.
In 2011 Office started his practice, Maclendon Wealth Management, which specializes in portfolio construction, strategic asset and liability management, and long-term planning relating to financial matters as well as real estate, income tax, insurance and estate planning. Previously, he worked with Merrill Lynch as vice president and associate director for its number one complex in the world and as a business consultant working with large corporations throughout the Caribbean, Latin America and the United States.
"I am excited to be part of FAtoday.com's Chairman's Club. At Maclendon we focus on serving affluent, entrepreneurially minded individuals and address their unique financial needs. I look forward to exchanging ideas within the Chairman's Club community to enhance our firm's best practices," Office said.
In addition to serving as a Chairman's Club member, he serves on the Advisory Board for Lynn University's Business School where he is also the founder of the Howard Isaacson Innovation Challenge. Office has a true passion for education and created the Maclendon Mentorship Program to inspire college students to explore the financial services industry. He is also a NFL Registered Player Financial Advisor. Jeremy, his wife Sherry, and their three children have been residents of South Florida for 15 years.
About Maclendon Wealth Management
Maclendon Wealth Management is a boutique multi-family office built on a foundation of traditional values, sophisticated knowledge and custom-tailored solutions. We cater to successful, affluent individuals, families and businesses looking for a dedicated team and exceptional wealth management services.
We serve as a personal CFO for our clients. Our team of skilled financial professionals shares an entrepreneurial outlook with our clients, which gives us the drive and focus we need to meet their unique needs. To do that, we provide a full menu of traditional wealth management services along with more specialized offerings, including non-traditional and alternative investments, venture capital, hedge funds, concierge services and business planning services.
To learn more about our services or our unique OneTeam™ approach, visit Maclendon.com.
About FA today
FA today is an exclusive community only for independent financial advisors (IFAs) whose credentials have been validated, based on broker registration records. Content and resources are tailored to each member's practice to present the most relevant news, articles, blogs and services all in one place. At the same time, by crowdsourcing across its membership, FA today provides the economy of scale needed to compete with the largest firms for access to data and financial products. Customization and validation are seamless because they are based on a lookup of the member CRD broker registration number. IFAs can build their own communities of like-minded advisors regardless of physical location to share best practices and grow professionally.
FA today was founded in April 2013 by a team of senior executives with extensive experience in Wealth Management, Technology, Online Media, and Platform design.
Independent Financial Advisors can register at FAtoday.com.
LinkedIn: linkedin.com/company/fa-today
Twitter: twitter.com/FAtodaynews
Facebook: facebook.com/FAtodayNews