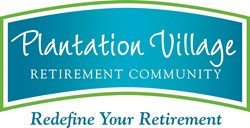 We're continuing to grow a community where active seniors can live a maintenance-free life to its fullest in every way.
WILMINGTON, North Carolina (PRWEB) November 05, 2013
Plantation Village, Wilmington's pioneer in the Continuing Care Retirement Community (CCRC) concept, will celebrate its expansion with a groundbreaking ceremony and reception at 2 p.m. on Friday, November 15, at 1200 Porters Neck Road in Wilmington. The expansion, which coincides with the community's 25th anniversary, will help meet growing demands for active senior living. On hand to celebrate will be local dignitaries, Plantation Village current and future residents, Board Members and staff, as well as representatives from its managing company, Life Care Services.
With 19 of the 27-unit apartment building sold, Plantation Village is ready to proceed with its 68,825-square-foot, $19-million expansion and renovation. The expansion includes a 27-unit apartment building, new dining venues, a new salon, a 350-seat auditorium, a new Wellness Center with a 20-meter lap & therapy pool, among other amenities. In addition, Plantation Village will remodel approximately 22,000 square feet of common areas, including a larger library with computer stations and an expanded living room to accommodate the community's thriving social scene.
The 27 new housing units – many with water views – will join three other apartment buildings, villa homes, duplexes and two cottage homes comprising 270 residences. This expansion will result in an estimated addition of approximately 40 new residents.
"We're continuing to grow a community where active seniors can live a maintenance-free life to its fullest in every way," explains Greg Woodward, Executive Director at Plantation Village. "This is a busy, vibrant neighborhood of people who enjoy social gatherings, fitness, fine dining and classes of all kinds – from painting to learning new languages to woodworking and much more. We refer to our residents as 'active seniors,' and I would say it's a bit of an understatement for many of them!"
Located on 56 beautifully landscaped acres just 15 minutes from downtown Wilmington and the beach, Plantation Village stands alone as a retirement community that offers an active lifestyle along with guaranteed access to all levels of health care. Residents can choose from a range of living options, including cul-de-sac neighborhoods, newly renovated apartment homes, villas and duplexes with a variety of floor plans for independent living, while having access to assisted or in-home care services if needed.
New residences will range from 917 square feet for a one-bedroom to 1,491 square feet for a two-bedroom home. Residences are designed to ensure plenty of natural light –with large windows (some with water views), as well as spacious closets and contemporary kitchens and bathrooms.
The architect on Plantation Village's expansion project is SFCS, one of the leading architectural, engineering and interior design firms in the country, specializing in designing for seniors. The contractor on the project is Clancy & Theys, one of the top commercial builders in the U.S. The development consultant is Greenbrier, a national leader in the planning and development of senior living communities.
Continuing Care
Plantation Village is Wilmington's pioneer in the Continuing Care Retirement Community (CCRC) concept. Residents are able to transition to and from independent living to assisted or in-home care services – or even skilled care from a nurse temporarily (after surgery) or long term.
Continuing care: a complete package of all-inclusive amenities and services:

Guaranteed access to Davis Health Care Center and Champions Assisted Living, complete with a memory care unit.
Plantation Village's partnership with The Davis Community ensures you will receive the area's finest care. Residents receive 30 days of temporary care every year at no additional cost, and also receive a 25% discount on any additional care, if needed.
Tax deductions – due to Plantation Village's non-profit status, a portion of entrance fee and monthly fees are tax-deductible.
Our Hardship Clause guarantees that you will always have a place here at Plantation Village even if your assets become depleted – Plantation Village will take care of you for the rest of your life.
This kind of security makes Plantation Village a popular choice among seniors who don't want to worry about unpredictable costs or unplanned moves. Whether they strain a shoulder on the golf course or need long-term assistance, they have access to the very best care at Plantation Village.
Ground breaking event on November 15:
The ground breaking event is open to the community and those interested in future residency, by making a reservation at: (910) 772-3187. Following are groundbreaking event activities on November 15, which begin at 2 p.m.:

Symbolic groundbreaking
Champagne toast
Hor d'oeuvres
Time for meeting new neighbors
Those unable to attend may contact Lisa Polanski, Director of Marketing for Plantation Village, at (910) 772-3188, for more information or an appointment.
About Plantation Village
Founded in 1988, Plantation Village is a retirement community for active seniors. Just minutes from the beach and downtown Wilmington, NC, Plantation Village is a beautiful, thriving 56-acre community with independent, maintenance-free homes that have all the modern amenities. A pioneer in the Continuing Care Retirement Community (CCRC) concept, Plantation Village offers residents the ability to easily transition to and from the level of healthcare they may need – whether it's short-term care after surgery or long-term living assistance. Seniors looking for an active lifestyle and guaranteed health care access find both at Plantation Village. For more information, visit http://www.plantationvillagerc.com/
About Life Care Services ™, management company for Plantation Village
Life Care Services, An LCS Company, established in 1971 and based in Des Moines, Iowa, is the nation's leading manager of full-service senior living communities. Life Care Services currently provides operations, marketing and sales management services for not-for-profit and for-profit continuing care retirement communities (CCRCs) serving nearly 29,000 residents in 31 states and the District of Columbia. For more information, visit lifecareservicesLCS.com.
###