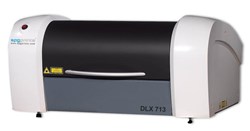 SPG Prints' direct laser exposure system provides optimum imaging quality and unmatched productivity.
Bryan, OH (PRWEB) November 06, 2013
Anderson & Vreeland, Inc., leading manufacturer and distributor of flexographic plate processing equipment and materials, today announced the availability of a unique computer-to-plate system designed for processing laser ablation masked (LAM) metal backed plates.
Manufactured by SPG Prints, the new DLX 713 images and exposes the mask plate in a single operation. Designed exclusively for dry offset applications, the DLX 713 replaces the conventional film process and provides exceptional quality over longer runs at a low cost per plate. Added benefits include reduced errors, faster turn-around, and more environmentally friendly plate production. The DLX 713 is easy to operate and can image and expose four plates approximately 6.9" x 15" in ten minutes with 2540 dpi resolution.
"SPG Prints' direct laser exposure system provides optimum imaging quality and unmatched productivity," said Paul Zeinert, Direct Engraving Manager for Anderson & Vreeland, Inc. "Plus the system is intuitive to operate and is very simplistic to maintain," he added.
SPG Prints is a global leader in the graphics printing market providing total system solutions: from screens, lacquers, inks and digital engraving to a broad range of rotary screen and digital printing systems.
For more information visit at http://www.AndVre.com or call toll-free 866.282.7697.
About Anderson & Vreeland, Inc.
Founded in 1961, Anderson & Vreeland has earned an international reputation as a leading provider of flexo prepress solutions for the graphic arts industry. The company offers a "systems" approach to conducting business by evaluating customer needs and offering the best solutions in the form of equipment, materials, training, and technology tailored for each customer. A&V supports these solutions with over 50 years of experience and a staff of technical sales representatives thoroughly knowledgeable about the fine points of flexo. The company's substantial flexo experience and technical support sets it apart from other prepress suppliers. This experience and support results in smoother and easier integration of technical advancements affecting flexo prepress. Further information is available on the web at http://www.AndersonVreeland.com.