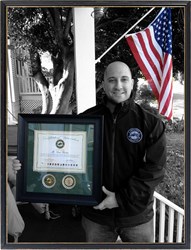 In Recognition of and Appreciation for Your Patriotism and Loyal Support of the Us Army Special Forces
Alexandria, VA (PRWEB) November 05, 2013
For his tireless and selfless services in aid of combat veterans and veteran Green Berets, Scott Gordon was awarded with a formal decree and challenge coins certifying his actions on behalf of the organization were exemplary.
The commendation reads, "In recognition of and appreciation for your patriotism and loyal support of the US Army Special Forces and The Green Beret Foundation. We proudly award this certificate on this 12th day of September 2013". The beautifully framed decree is signed by GBF Executive Director Jennifer Paquette and Major General (Retired) James Champion.
In addition to being the Clinical Director at Old Town Psychoanalytics in Old Town Alexandria, VA; Gordon is the Executive Director at The 296 Project, a web based non-profit organization funded by monetary and in-kind donations, as well as governmental and organizational grants. They exist on the surface to highlight the incredible artistry of our combat veterans however their primary mission is to encourage art as a healthy outlet for veterans suffering with the painful after effects of war and to be a clearinghouse for resources that can serve our veterans' therapeutic needs.