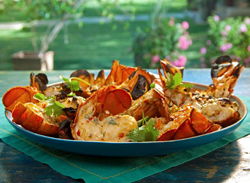 (PRWEB) November 06, 2013
It's no secret that the team at GetMaineLobster.com is excited for the upcoming holidays, which is why its chefs are continuing to develop new recipes for the holidays. The live Maine lobster delivery service's latest holiday recipe is Whole Maine Lobsters with Chestnut Puree and Cider. With its current buy one get one special on two live Maine lobsters for just $95.95, now is the perfect time to take advantage and enjoy this delicious recipe.
Ingredients for the main event include five whole Maine lobsters, boiled and split lengthwise; one batch of cider vinaigrette, one batch of chestnut puree, and one to two cups of mixed greens.
Ingredients for the cider vinaigrette include one-half cup of chicken or lobster stock, one cup of apple cider, three minced shallots, one bay leaf, one tablespoon of sherry vinegar, one-quarter cup of heavy cream, three-fourths of a teaspoon of freshly grated nutmeg, two finely sliced scallions, and one tablespoon of chopped parsley. For the chestnut puree, one-half tablespoon of vegetable oil, one diced onion, one-half cup of chicken stock, one 15-ounce can of whole chestnuts in water, drained; one-and-a-half tablespoons of maple syrup, and one-quarter cup of crème fraiche.
For the cider vinaigrette, add the stock, apple cider, shallots, bay leaf and vinegar into a medium sauce pan and bring to a boil. Lower the heat and simmer until the liquid is reduced by half and whisk in the heavy cream and nutmeg. Continue to simmer until the sauce begins to thicken, remove from the heat and keep warm for serving.
To make the chestnut puree, add the oil to a medium sauce pan over medium heat and add the onions. Sweat the onions until they are soft and aromatic. Then, add the chicken stock and chestnuts, and simmer for approximately five minutes. Remove from the heat and add in the maple syrup and butter. Next, place the mixture into a blender and blend until smooth. Once smooth, stir in the crème fraiche and season to taste.
After cooking the Maine lobsters, let them sit until they are warm, but not too hot to handle. Split them in half using a large chef's knife and remove any of the undesired components. Remove the tail and dice into small pieces, place a small amount of the chestnut puree into the shell and top with the diced lobster meat. Then, mix the scallions and parsley with the cider vinaigrette, and drizzle a small amount of the vinaigrette over the Maine lobster meat.
To serve, spoon some of the chestnut puree onto a large platter. Arrange the lobster halves on the platter and top each with a small amount of mixed greens dressed with the vinaigrette. Once arranged, drizzle vinaigrette around the platter and add the remaining greens as desired!
Browse Get Maine Lobster's wide range of seafood offerings, access other Maine lobster recipes or view current seafood specials for delivery by visiting GetMaineLobster.com or call (866) 562-.4817. Stay updated and Like us on Facebook or follow us on Twitter.
About GetMaineLobster.com
GetMaineLobster.com, a division of Black Point Seafood and Black Point Gourmet, hand-selects the finest Maine lobster, seafood and beef products for convenient distribution throughout the United States. Their passion is to make fresh, quality seafood readily available to customers across the country, which is why they buy from only the most trusted, well-established suppliers to ensure that they receive the finest products available.
GetMaineLobster.com was selected out of the more than four million small American businesses served by Chase bank to represent its new Platinum Business Checking product for its 2013 national advertising campaign.