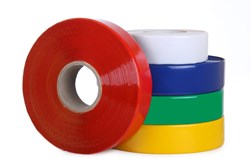 "We are very pleased to offer BesTape, the best darn floor tape. Please contact us for a sample roll." - Jennifer Molski, Manager, Customer Care at 5S Supply
Frankfort, IL (PRWEB) November 08, 2013
Among the features of BesTape™ floor marking tape are beveled edges, a rounded surface, and adhesive that extends closer to the tape's edge and leaves no sticky residue and requires no scraping or cleaning. BesTape floor marking tape is available in 2-, 3-, and 4-inch widths and comes in seven colors—red, orange, yellow, green, blue, black and white.
"We are very excited about offering BesTape. We believe it is the best darn premium floor tape out there. Its superior design and lower cost makes it the hands-down choice over other floor tapes." said Tony Manos, Lean Champion at 5S Supply. "While we were testing the tape customers were amazed at how well it held up against forklift traffic. They were also impressed that when it was time to change the layout that the tape came up and left no sticky residue. This alone saved them time and money versus other types of floor tapes.
5S Supply's BesTape floor marking tape will debut at the FABTECH show in Chicago, IL on November 18, 2013.
BesTape floor marking tape goes on easy, just peel-and-stick. It features beveled edges, extended adhesive and a smooth, round surface for easy clean up. Its unique design makes it easy for forklifts to pass easily over the tape while ensuring quality and complete adhesion to the floor surface. When it comes time to reconfigure floor markings, BesTape floor marking tape peels off quickly and cleanly and with no sticky residue to remove. There is no time wasted scraping tape off the floor.
BesTape floor marking tape is $70 per roll and available exclusively through 5S Supply. It comes with an industry-best two-year warranty.
Visit http://www.5Ssupply.com for more information on how to apply lean principles to improve any workplace. Contact 5S Supply at 888 4 LEAN 5S (888-453-2657) or info(at)5Ssupply(dot)com. 5S Supply is the premier provider of Lean supplies, training and services.