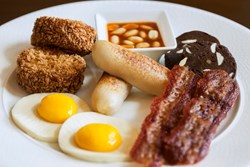 New breakfast concept in Dubai offers guests, residents and families the opportunity to immerse themselves in an indulgent lifestyle setting
Dubai, UAE (PRWEB) November 05, 2013
Acclaimed American novelist Hunter Thompson once said that breakfast should be enjoyed 'in a spirit of genuine excess' and that 'all of it should be dealt with in the warmth of the hot sun.' Embracing this breakfast ethos, a pristine beachfront, and in tribute to Thompson who enjoyed the first meal of the day with great gusto, Flow Kitchen, Dubai's premiere family style restaurant, at Fairmont The Palm is pleased to devote a full 270 minutes (from 10:30am – 3pm) every Friday towards this culinary repast with BreakSlow.
Aptly referred to as BreakSlow, a play on the word breakfast, which in today's dynamic city is just that – fast, this new breakfast concept in Dubai offers guests, residents and families the opportunity to immerse themselves in an indulgent lifestyle setting. Priced from AED 155, generous portions of stick to your ribs dishes are served table or bean bag/Lazy Boy side, a variety of newspapers and magazines are available to catch up on the news indoors in Flow Kitchen or by the beach, which also includes a BBQ pit, and bespoke packages including the children's club are all designed to make Fairmont The Palm luxury resort an all day destination.
How do you Like Your Eggs?
Poached? Scrambled? Boiled or fried? With a lineup of over 20 tried and true daytime menu dishes, including traditional eggs Benedict, steak and eggs with potato hash, and Belgium waffles heaped with fresh berries and maple syrup, Executive Chef John Cordeaux also combines whimsy and surprise to the Dubai Breakfast menu with breakfast pizza laden with sausage, egg and cheese and an updated take on the Shawarma - beef bacon, sautéed onions and mushrooms, all doused in brown sauce. Moreover, with 4 ½ hours to enjoy what might very well be the most important meal of the day, the ending couldn't be sweeter with a play on a traditional English breakfast – eggs sunny side up (vanilla panacotta and passion fruit curd), streaky bacon (Brandy snap tuile), baked beans (white chocolate with tropical fruit sauce), black pudding (triple chocolate brownie), sausages (orange blossom lemon cake) and hash browns (raspberry Nutella French toast) – all plated up, dessert style!
Its Breakfast Not Friday Brunch
"In a city that has a thriving Friday brunch culture with over 150 restaurants offering this pastime, it's refreshing to come to a place where you're not jostling at the buffet line, and where everything is not so fast paced with music and noise," states Cordeaux. "Instead our chefs come to you with the freshest ingredients prepared just the way you like, and you leave BreakSlow with a memento from our kitchen - a warm home baked pumpkin loaf."
For four and a half hours at BreakSlow breakfast in Dubai at Fairmont The Palm, guests can spend a lazy Friday with a cup of coffee and a good read or stroll in late afternoon for a pick me up from the night before. Families can enjoy some together-time with activities for the little ones and take in views of the beach and the Marina skyline while lounging on La-Z-Boy sofas and picnic blankets at the Dubai oceanfront resort.
Breakfast a Fad?
Breakfast is the most important meal of the day and for generations our mothers have been telling us this, but it's true. A poll conducted in the United Arab Emirates amongst Arab national, Emiratis and expatriates earlier this year found that 1 out of 4 people still don't eat breakfast. This is alarming as research from John Hopkins School of Public Health indicates that skipping breakfast leaves people more prone to snacking throughout the day with a strong likelihood of weight related issues.
A Far Reaching Phenomena
Urbandictonary.com defines it as "for lazy people, the first meal of the day. Usually consumed between the hours of 12pm and 3pm, lasting a half hour at the least." The concept has flourished in North America and Europe where BreakSlow enthusiasts have taken to social media platforms like Instagram and Pinterest with attractive images of ideal breakfast fare to be languished over for a long period of time. An active group of Berliners have also created the 'Bed and BreakSlow' Facebook club, meeting in members' living rooms with homemade breakfasts and themed talks. Flow Kitchen is the first to bring the essence of BreakSlow to the region and to the city, with a genuine approach towards leisurely daytime dining.
Cliff Notes
Breakslow at Flow Kitchen restaurant in Dubai, located at Fairmont the Palm is available every Friday from 10:30am – 3pm and is priced at AED 155 per person, which includes full breakfast brunch, fresh juices, tea and coffee; AED 285 per person, with the above and selected house beverages and cocktails and AED 445 per person, with a half bottle of bubbly and select house beverages and cocktails. Children age 4 - 12 years, can access Fairmont Falcons Junior Club, inclusive of BreakSlow from 11am – 3pm for AED 155. For reservations please call +971 4 457 3388; email palm.dining(at)fairmont(dot)com or visit Fairmont.com/palm.
Editorial Opportunities
High resolution images are available upon request
Behind the scenes with Chef Cordeaux and hosted reviews
Interview opportunities (English/Arabic) available
About Fairmont Hotels & Resorts
Fairmont Hotels & Resorts is a celebrated collection of more than 65 luxury properties around the globe, including Shanghai's Fairmont Peace Hotel, The Plaza in New York, and Makkah Clock Royal Tower in the Kingdom of Saudi Arabia. The luxury brand's distinctive hotels offer a sense of heritage and sophistication, warm, engaging service and culturally rich experiences. Fairmont balances the company's economic, environmental and social priorities and provides the framework for responsible hotel operations through the Sustainability Partnership program. Fairmont is owned by FRHI Hotels & Resorts, a leading global hotel company with over 105 hotels under the Fairmont, Raffles, and Swissôtel brands. The company also manages Fairmont, Raffles and Swissôtel branded luxury private residence clubs, whole-ownership residences and serviced residences properties. For more information or reservations, please call 1-800-441-1414 or visit fairmont.com. Become a fan of Fairmont. Follow us on Facebook, Twitter, Instagram, Pinterest, and EveryonesAnOriginal.