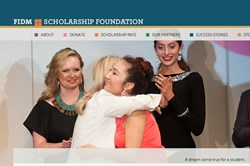 Los Angeles, CA (PRWEB) November 06, 2013
The non-profit Scholarship Foundation at the fashion college FIDM/Fashion Institute of Design & Merchandising provides financial help to postsecondary students who are studying in the fields of Fashion, Interior Design, Entertainment, and the Digital Arts. At the new FIDM Scholarship Foundation website, http://www.fidmscholarshipfoundation.org, students and their families can find helpful information on outside scholarships. Updated on a daily basis, these posts link directly to applications and fall off once the application date has expired, saving time.
The new site also allows companies and individuals to make financial donations to the FIDM Scholarship Foundation and provides information on how to donate merchandise and general information about the Scholarship Store, including new arrivals, promotions, and photos. This unique shop, which has been voted by the readers of Downtown News as "Best Womenswear Boutique & Best Art, Craft, and Design Store in Los Angeles" features an ever-changing array of merchandise donated by top fashion companies. All prices are below wholesale and proceeds generate scholarships for students. The Scholarship Store also benefits students by giving them jobs in the store, creating a "students helping students" retail approach.
The launch of this website is the first step for FIDM to expand their scholarship program and help more prospective students meet the challenges of financing a college education. The FIDM Scholarship Foundation, a not-for-profit organization, was established in 1978 with the express mission of providing financial assistance to postsecondary students in their pursuit of a higher education degree in the creative industries of a Fashion, Interior design, Entertainment, and the Digital arts.
FIDM/Fashion Institute of Design & Merchandising is a co-educational, specialized, private college dedicated to educating students for the Fashion, Graphics, Interior Design, and Entertainment industries. Known as a one of the top fashion design schools, FIDM is also a leading graphic design school and digital media college. Visit fidm.edu for more information.