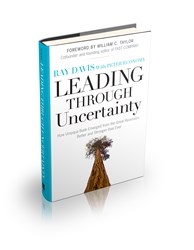 San Francisco, CA (PRWEB) November 13, 2013
"Ray Davis's Leading Through Uncertainty is thoughtful, insightful, and—perhaps most importantly—fundamentally practical. For those who want to make a difference in their organization, this is a must-read." —Diana Oreck, vice president, Ritz-Carlton Leadership Center
"I've always believed that great leaders know when to stay the course, adjust, and reinvent. Ray Davis articulates this and much more in his playbook for leadership and successfully navigating through uncertainty. He talks about leaders at all levels and understanding the importance of outlining a vision and strategy as well as identifying and catching what I call 'market transitions.' Ray's smart and practical thoughts on leadership provide great insight and leaders would benefit from reading this book."
—John Chambers, chairman and CEO, Cisco
It's no secret that the Great Recession has deeply affected many businesses and industries, including banking. Yet the West Coast's largest independent community bank, Umpqua Bank, didn't just survive this economic storm – it emerged even stronger than it was before.
In Leading Through Uncertainty: How Umpqua Bank Emerged from the Great Recession Better and Stronger than Ever (Jossey-Bass; 978-1-11873302-8; November 2013; e-book available), Umpqua CEO Ray Davis shares the leadership best practices that guide the organization and have led to its success in both good times and challenging times, including its focus on honesty, motivating and inspiring employees, building an outstanding corporate reputation, creating buzz with non-traditional marketing, paying attention to details, and ultimately, growing where others haven't.
In this follow-up to his earlier book, Leading for Growth, Davis discusses how Umpqua has differentiated itself from others and grown at a time when so many have faltered.
Umpqua's strategy delivers the products and sophistication of a large institution with a customer-centric approach that defies industry norms. Even as the aftershocks of the financial crisis continue to drive some banks to the brink of collapse, Umpqua continues to pioneer a new approach.
And the strategy works: Umpqua has grown to more than 2500 associates and more than 200 bank stores across four states. Leading Through Uncertainty draws on Umpqua's success to offer smart, concise tips and insight that will help leaders in any industry secure a lasting foothold in this, or any, economy.
About the Author:
Ray Davis is president and CEO of Umpqua Holdings Corporation, parent company of Umpqua Bank. He has been recognized in numerous national publications, including the Wall Street Journal, New York Times, Fast Company, BusinessWeek, Newsweek, and CNBC, and is the author of Leading for Growth (Jossey-Bass, 2007). Davis has been recognized as one of high finance's twenty-five most influential people by U.S. Banker Magazine. He lives with his wife in Portland, Oregon. http://www.umpquabank.com