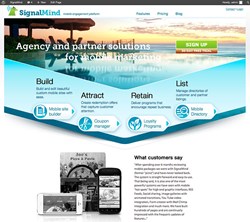 Changing our name from piJnz to SignalMind reflects a new approach to delivering customer loyalty and a completely re-architected mobile marketing environment.
Dallas, Texas (PRWEB) November 05, 2013
piJnz Group today relaunches its mobile marketing product suite under the company name "SignalMind." With a new service-based HTML5 interface, a Loyalty Programs module for improving customer retention, and many other updates, the SignalMind product suite provides agencies and partners with a rapid way to deliver and optimize mobile marketing campaigns for their clients.
Four primary modules comprise the new SignalMind product suite:
1. SignalMind Loyalty Program: This new functionality allows marketers to quickly produce and track the results of Customer Loyalty programs, from campaign setup, to enrollment, to tracking incentive points and programs, to reward redemption for first-time and returning customers.
2. SignalMind Mobile Site Builder (formerly piJnz Mobile CMS): This flagship mobile content management service is already used to publish thousands of sites, and the new updated HTML5 management interface provides a faster user workflow, while supporting almost any combination of platform and browser without requiring plug-ins or client-side software.
3. SignalMind Mobile Coupons: Create and manage coupon offers and redemption checkpoints without the complexity of using a proprietary vendor or reconfiguring your CRM platform.
4. SignalMind Mobile Directory: Publish custom directories of businesses to increase client searchability and aggregate deals and offers within a region or geographic location.
"Changing our name from piJnz to SignalMind is not just a rebranding exercise and a new web address that is easier to spell, it reflects a new approach to delivering customer loyalty and a completely re-architected environment for building and managing our customer's mobile marketing campaigns. By using HTML5-based browser interfaces for management as well as presentation layers on devices, the SignalMind product suite gives any client a fast and effective way to deliver mobile marketing campaigns," said Elena English, founder and CEO, SignalMind.
Existing users of the piJnz platform will simply log in and start using the latest version of the SaaS-based SignalMind product suite. Agencies and marketing customers will still be able to create, view and edit their existing mobile sites, directories and mobile coupons, while enjoying an enhanced workflow going forward and having the option to add the new customer loyalty programs.