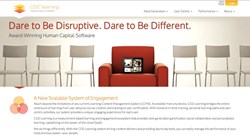 Reach beyond the limitations of any current Learning Content Management System (LCMS). Accessible from any device, CD2 Learning bridges the entire continuum of learning from user setup to course creation and tracking to user certification.
Overland Park, KS (PRWEB) November 05, 2013
CD2 Learning, headquartered out of Overland Park, Kansas is proud to announce the launch of its new website, http://www.cd2learning.com
The new website showcases the definition behind the company's name, CD2- Content Driven Delivery. "We have made the intentional decision that the content, the delivery, and the ultimate experience for the user are the things that should drive the technology," states CD2 Learning cofounder, Dena Bartlett.
CD2 Learning bridges the entire continuum of learning from user setup to course creation and tracking to user certification. With moment-in-time training, personal learning paths and user-centric activities, the system provides a unique, engaging experience for each user.
CD2 Learning specializes in next generation learning through the Innovator system that takes real world situations and recreates them as simulations and assessments. Innovator gives users the ability to track every click or touch, allowing more in-depth data collection than third party tools. Using a path-matching algorithm, Innovator scores and logs the user's path through the interaction for tracking and reporting.
The architecture of the system is designed so that every piece of content in a lesson can be aligned to learning objectives and outcomes. Every click matters and the CD2 Learning system goes beyond just a measuring of general understanding of the content.
"Add to this our ability to bring gamification to life which increases engagement thru competition, badge earning, collaboration and interaction while building communities within the CD2 Learning system," said Bartlett, "And we are able to measure every move within every activity to provide for our clients analytics that goes beyond general knowledge, but change the game to keep people safe and ensure proficiency."
Other key features that are new to the market are now highlighted such as Moment in Time training, which quickly creates and deploys new content, recorded from any mobile device, allowing users to instantly start a discussion around that content and begin collaborating.
As a testimonial of the excellence in which CD2 Learning delivers, CD2™ Learning was recently named a winner of a 2013 People's Choice Stevie® Award for Favorite New Products in the 11th Annual American Business Awards.
About CD2™ Learning http://www.cd2learning.com/Home.aspx
CD2™ Learning was started in 2008, with one goal in mind: to develop a scalable system that would allow companies to create and deliver innovative content in a new way. Combining both features of an LMS and CMS, CD2 challenged the status quo on its quest to offer companies in different industries a way to connect with their customers. The solution offered allows for maintaining the stability of intellectual property as well as giving old ways of delivery new life. CD2™ Learning is headquartered in Overland Park, KS.
Media Contact:
Tiffany Adams, Director of Marketing
tadams(at)cd2learning(dot)com