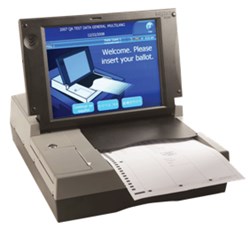 Every service ES&S provides is designed to enhance the ease of our election. - Frieda McDougall, City of Red Deer Legislative Services Manager
Vancouver, BC (PRWEB) November 07, 2013
Nearly 2 million potential voters in 16 Alberta municipalities had the opportunity to cast their ballots in recent elections on voting systems provided by Election Systems & Software, Canada ULC, a leading supplier of Canadian voting system equipment and software.
ES&S Canada successfully supported municipal elections in the following Albertan municipalities: Edmonton, Medicine Hat, Red Deer, St. Albert, Wood Buffalo, Canmore, Camrose, Wetaskiwin, Chestermere, Strathmore, Airdire, Whitecourt, High River, Vermilion, Cochrane and Banff. ES&S deployed 26 trained and seasoned election technology specialists to support the elections.
More than 550 voting devices and other technologies were used on Election Day, said Glenn Foote, Director of Operations for ES&S Canada.
The equipment deployed included the use of ES&S' state-of-the-art DS200 Digital Scan vote scanner and tabulation technology, Model 100 Optical Scan units and AccuVote-OS systems. ES&S also installed Ballot-on-Demand printers in addition to AutoMARK devices for voters with disabilities. This combination of equipment provided a breadth of product offerings designed to meet the unique needs of each municipality, Foote said.
The City of Red Deer was one of many happy customers.
"ES&S understands our election processes and procedures, and Glenn Foote and his team are professional and responsive in responding to the unique needs of our jurisdiction. It's great to be working with this team of election professionals," said Frieda McDougall, Legislative Services Manager/Returning Officer. "The City of Red Deer has used the DS200s for the past two elections, and they are easy to use and set up for our election workers. Every service ES&S provides is designed to enhance the ease of our election."
Many customers used ES&S wireless modem technology to provide "lightning-fast" elections results to municipalities within minutes of poll closing, Foote said. ES&S also successfully launched its new Web Results program that allowed election results to be quickly shared online with all interested parties.
"Our main goal is to help as many municipalities make the switch from hand counting ballots to using modern voting technology," Foote said. "In these elections, we ensured that elections were accurate, transparent and could be audited. ES&S Canada is striving to create a voting standard where all Albertan voters can cast ballots equally like every other voter throughout Canada."
ABOUT ES&S CANADA: Election Systems and Software, Canada LLC (ES&S) is a leading supplier of voting system equipment and software in Canada. Learn more about ES&S Canada at http://www.essvote.ca.