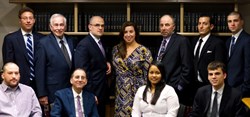 We limit the number of cases we accept because we take pride in treating each of our clients like family.
New York, NY (PRWEB) November 06, 2013
1) The first step is to speak to an experienced personal injury attorney to determine the appropriate parties to sue. The document that initiates a lawsuit is called a Summons and Complaint. This puts the defendant on notice of the lawsuit and lays out the basic allegations in the case.
2) The defendant (usually through their attorney) then will respond with an Answer, which will admit or deny the allegations in the Summons and Complaint. The Answer will usually be served with a set of discovery demands beginning the discovery phase of the lawsuit. The discovery process involves the exchange of information and documents between the parties.
3) The most important document exchanged is called a Bill of Particulars. This document sets forth the nature of the claim and the injuries in specific detail. Discovery also involves court appearances, depositions, and motion. The discovery stage is often lengthy, and it is imperative to have experienced attorneys to push your case along quickly and to present your case in the most favorable light.
4) After all discovery is complete (depositions, medical reports, witnesses and photos have been exchanged) it is time to put your case on the trial calendar. This requires the filing of a Note of Issue, which is the attorney's certification that all preliminary work on the case has been concluded and that the case is trial ready. You will then receive a trial date based on the court's availability, which will usually be 6 months to a year from the filing of the Note of Issue.
5) Some cases settle during this time period, while others will go to trial. The direction of your case may depend on the reputation of the law firm you select. Insurance carriers know which personal injury attorneys fight harder for their clients and are always prepared to go to trial if the case cannot settle.
"At Pulvers, Pulvers & Thompson", Harlan says, "we will fight for you every single moment that we represent you. We limit the number of cases we accept because we take pride in treating each of our clients like family. We will stop at nothing to achieve a favorable result because client satisfaction is our only concern." Feel free to check out the Pulvers, Pulvers & Thompson personal injury lawyers website to learn more about their team.